The Hitman's Bodyguard
(2017)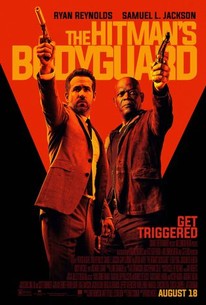 TOMATOMETER
AUDIENCE SCORE
Critic Consensus: The Hitman's Bodyguard coasts on Samuel L. Jackson and Ryan Reynolds' banter -- but doesn't get enough mileage to power past an overabundance of action-comedy clichés.
The Hitman's Bodyguard Videos
The Hitman's Bodyguard Photos
Movie Info
The world's top protection agent (Ryan Reynolds) is called upon to guard the life of his mortal enemy, one of the world's most notorious hitmen (Samuel L. Jackson). The relentless bodyguard and manipulative assassin have been on the opposite end of the bullet for years and are thrown together for a wildly outrageous 24 hours. During their raucous and hilarious adventure from England to the Hague, they encounter high-speed car chases, outlandish boat escapades and a merciless Eastern European dictator (Gary Oldman) who is out for blood. Salma Hayek joins the mayhem as Jackson's equally notorious wife.
News & Interviews for The Hitman's Bodyguard
Critic Reviews for The Hitman's Bodyguard
Audience Reviews for The Hitman's Bodyguard
½
Two stars holding guns out at the audience on the poster = buddy action movie! Think of over-the-top crazy action set pieces paired with "meh" buddy repartee (like what they used to do in the Lethal Weapon series, or is that too passé anymore?). Jackson, Reynolds, Hayak and Oldman are old hands at this. A few times, that shows. Still, movie fun. And, of course, love Amsterdam. (P.S. I have never been as jealous of Jackson, even when a shark ate him, as when he got to kiss Hayek!!!)
Kevin M. Williams
Super Reviewer
½
How many times do we have to place talented actors in movies together, just because they're famous? Yes, names like Ryan Reynolds and Samuel L. Jackson will definitely get some people into the theatre based on their name recognition alone, but I don't think that's enough when it comes to selling tickets. I'm a fan of both of these actors, but something felt off about my experience with The Hitman's Bodyguard, and I think it may have something to do with their chemistry. This is a film that I held out hope for, simply due to the frenetic nature of the trailers and the fact that these two had been cast together, but sadly, this is going to be a very mixed review. Here's why The Hitman's Bodyguard will warrant a recommendation from me if you're able to go in completely open-minded and not hoping for too much. It's stories like this that really frustrate me to my core, because the package itself seems pleasant to look at, but there is so much baggage within. For the first act and partially throughout the second act, certain plot points are focussed on that will ultimately bore many viewers, but annoying part is that it all comes full circle by the end, expecting you to remember sequences that you didn't seem to care about at the time. Exploring character's backstories in order to add depth to our main characters, having explosive action sequences to keep audiences engaged, and powering through tedious exposition scenes, this is a movie that's simply about a bodyguard that is assigned to deliver a hitman to a court room on time for his hearing. With a premise this simple, this is a movie that's far too bogged down by its subplots. That being said, it's surprisingly still a fun movie to sit back and watch at least once. Quite honestly, when it comes to films like this, you really can't expect much more than some cool action and a few laughs, so I walked out recalling just that and nothing more. From boat chases, to car chases, to combat scenes on-foot, the action throughout this movie felt very-well choreographed, which was a pleasant surprise in the scheme of things leading up to them. There are a few solid chuckles, but it does get tedious when the jokes are as simple as curse word being said in order to gain a few laughs. For every boring plot point or failed attempt at humour, The Hitman's Bodyguard makes up for it with some pretty awesome action. Sadly, I found many characters to be underused and the chemistry between Jackson and Reynolds to be a little off. From Salma Hayek being present to curse at inmates in prison, to Gary Oldman being too sidelined to care about when his times comes in the third act, the secondary characters gave you nothing to really care for, leaving the only enjoyment to be with the chemistry between Samuel L. Jackson and Ryan Reynolds, but they just felt like they were playing versions of their real selves. Never once did I buy the chemistry between them, but I enjoy them both as actors, so I was able to look past that and sort of buy into it by the end, even though it becomes incredibly predictable. To wrap things up, will I be recommending this film to anyone? Possibly, but only to those who just want to have some fun hearing curse words and see some cool, stunt work throughout the many action sequences. Other than these elements, it's a movie that's 20-30 minutes too long, showcasing characters that display little to no chemistry throughout, a pace that may have some checking their watches in between the inciting incident, and a conclusion that's incredibly predictable. The Hitman's Bodyguard is pretty bland, but it's an average watch at least once. I feel no desire to ever rewatch it, so take that recommendation how you wish. Fun at times, but completely forgettable.
The Hitman's Bodyguard is mostly glued by the mindless, yet intriguing, banter of Samuel L. Jackson and Ryan Reynolds. Despite it's safe, simple and forgettable plot, the film is surely entertaining for those who enjoy its excess of action and profanity, especially the MF-bombs. 3/5
Eugene Bernabe
Super Reviewer
The Hitman's Bodyguard Quotes
There are no approved quotes yet for this movie.