The Hive
(2015)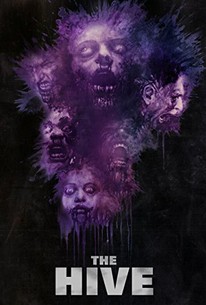 AUDIENCE SCORE
Critic Consensus: No consensus yet.
Movie Info
An amnesiac is forced to enter his own consciousness in order to save his love before he is infected by a highly harmful virus.
Critic Reviews for The Hive
All Critics (3) | Fresh (2) | Rotten (1)
The Hive has quickly become one of my favorite horror films of 2015. It really has everything I could want in an infection style horror film.
The actors are good (especially Walsh, who was one of my favorites in last year's Paranormal Activity: The Marked Ones), the story sails right along at a brisk clip that's just right for its 89-minute running time, and there's even a romantic subplot.
Audience Reviews for The Hive
A film that relies on style over substance could probably have done with being a little more... stylish. But overall I actually didn't mind The Hive, in fact I sort of enjoyed it. Maybe I was just over the moon to realise I wasn't about to sit through another found-footage nightmare, and maybe I just wore the rose-tinted glasses of being super in to lead actress Kathryn Prescott, but I actually sort of dug The Hive in its Evil Dead ripoff-y glory. But I feel it must be asked, why is it, that the one film that actually comes up with a perfectly reasonable explanation for the "love conquers all" cliche, go ahead and waste it on a completely unbelievable love story? I mean for real, they barely know each other but we're supposed to know it's true love? That stuff doesn't even fly for bloody Disney Princesses nowadays.
The Hive Quotes
There are no approved quotes yet for this movie.