The Hole (Le Trou)
(1964)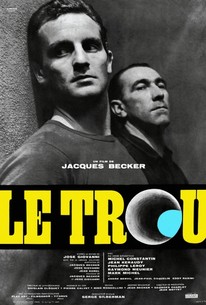 The Hole (Le Trou) Photos
Movie Info
Tense drama about five inmates who plan to escape from jail while the prison is being repaired. Philippe Leroy, Marc Michel. Geo: Michel Constantin. Roland: Jean Keraudy. Governor: Andre Bervil. Monseigneur: Raymond Meunier. Grinval: Jean-Paul Coquelin. Directed by Jacques Becker.
Critic Reviews for The Hole (Le Trou)
Audience Reviews for The Hole (Le Trou)
The lack of Hollywood-style production values forces the viewer to focus on the men and their plight. They unite over their shared desire to escape. Normally civilization prescribes that a criminal must be punished and serve their sentence. Morally that's justifiable. But these men don't come off as hardened criminals. They're polite, well mannered, and trustworthy. The responsibility of society to punish these men is never an issue. We want them to break out and that's a testament to how seemingly honorable these men are. The camaraderie of these five men illustrates a close friendship in which Manu, Geo, Roland, and "Monsignor"" must befriend and rely on each other, as well as Claude Gaspard, the outsider. There's a searing humanity that plays out in their shared plan. In this way, there's a temperament to the men that's not readily apparent but slow builds over the course of the story. Loyalty is their most prized virtue and their devotion is quietly profound.
Mark Hobin
Super Reviewer
Prison-break stories are somewhat hackneyed now, but not at the time of this gripping 1960 drama. Five cellmates (all unproven actors, including someone who was involved in the real-life scheme that inspired the script) meticulously dig a way out of their claustrophobic cell. The plan is detailed enough to include trivia such as constructing a tiny hourglass and "periscope" out of everyday items. The film has no musical score except in the closing credits, and director Jacques Becker's avoidance of such cinematic distractions puts the viewer right in the cell as a sixth prisoner. Elements of the plan seem a little too easy (why didn't anyone hear all that noisy, late-night hacking through cement?) but "Le Trou" is a suspenseful, entertaining ride that will captivate mainstream audiences as well as foreign-film buffs. Sadly, Becker died just weeks before the film's release.
Eric Broome
Super Reviewer
becker's final film and it's fantastic. every bit as good and a great counterpoint to bresson's masterpiece, a man escaped. completely nerve wracking
Stella Dallas
Super Reviewer
The Hole (Le Trou) Quotes
There are no approved quotes yet for this movie.