The Hole (Dong)
(2020)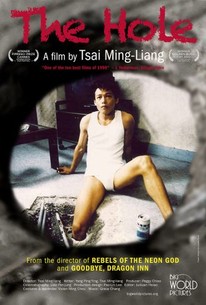 Movie Info
Set just prior to the start of the 21st century, this vaguely futuristic story follows two residents of a quickly crumbling building who refuse to leave their homes in spite of a virus that has forced the evacuation of the area. As rain pours down relentlessly, a single man is stuck with an unfinished plumbing job and a hole in his floor. This results in a very odd relationship with the woman who lives below him. Combining deadpan humor with an austere view of loneliness and a couple of unexpected musical numbers, Tsai Ming-Liang crafted one of the most original films of the 1990s.
Critic Reviews for The Hole (Dong)
Audience Reviews for The Hole (Dong)
½
The musical numbers don't always fit organically within the story, but Tsai's bleak idea of a post-apocalyptic Taiwan under constant rain and in maximum literal isolation is a powerful one as he pictures modern disconnected people turning into cockroaches in the middle of garbage.
Carlos Magalhães
Super Reviewer
½
An epidemic hits Taiwan, people who suffered from the disease become cockroach like in terms of their behaviour. A plumber created a hole in a man's apartment and the man and his neighbour began to suffer from the delusions and hallucinations of the effect of the disease. The hole represented the depression in a socially planned urban environment, everyone fills it with different methods. The hole is also a musical that juxtaposed the depression with cheerful tunes.
Sylvester Kuo
Super Reviewer
like my favorite depression era cinema: bleak as all hell, with musical numbers!!
Stella Dallas
Super Reviewer
The Hole (Dong) Quotes
There are no approved quotes yet for this movie.