The Hollow
(2015)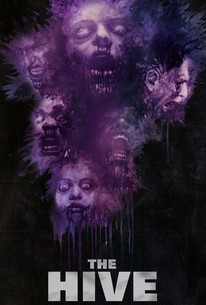 AUDIENCE SCORE
Critic Consensus: No consensus yet.
Movie Info
Three sisters try to stay alive battling an evil curse during a killer storm on Halloween eve.
Critic Reviews for The Hollow
Audience Reviews for The Hollow
Sort of weird that this film's poster is for another completely different movie, The Hive, as if it wasn't obvious by looking at your left. I can already tell that The Hive, having seen its trailer, is considerably better than this. I don't really even know what to say about this movie. It's not even that it has a good concept, because it doesn't. A monster that came about because a set of people put a curse on the town, been there, done that. But the film started out somewhat promisingly. Perhaps that's a little too strong of a term to use, but there was potential here and the movie, particularly for a SyFy original movie, looked considerably better than who commissioned it might imply. But, as the film progressed, there was pretty much nothing to like about this movie. It's about as straightforward of a monster film as you can get. It's witless and joyless. Part of what makes some of the more famous monster movies so enjoyable is that they're completely self-aware as to what they are and what they're gonna offer. There's no delusions or pretensions of grandeur. And I'm not saying that this film wanted to be anything more than it was, but they don't take pride in the fact that, as much as it is a horror movie, there's also a monster movie deep down at its core. And I'm not saying that this approach would've worked for every monster movie, like the Godzilla reboot for one, but in these sort of low-budget, TV movies then you need all you can to set yourself apart, or at the very least to get people to want to watch your flick. This movie, as I mentioned, doesn't do any of that with its witless and uninteresting approach. First things first, the characters themselves aren't entirely likable. Sarah is a control freak who feels the need to make huge life-changing decisions for people without their input, Marley is always complaining and Emma is, literally, one of the most useless characters I've seen in a long time. So, yea, it's really kind of hard to rally around Sarah and Marley in their search for Emma when all of them are so unlikable as human beings. Not to mention the fact that the acting is pretty bad. No one is good, but Stephanie Hunt, who played Sarah, was really the worst of them all. There's no real sense of urgency in anything she says or how she acts. Her face looks the same if she's stressed, sad, happy or angry. I don't know if I've seen her before, but she was awful here. Sarah Dugdale, who played Marley, was a little better, but her character was pretty much one-note. I have no idea how good, or not, the actress playing Emma was, but the character is so ridiculously useless. This girl is either crying, getting saved or standing around doing absolutely nothing. And the climax sees her finally standing up for herself and her sister as she's moments away from being killed by the monster. This is a good idea in theory, but they go about in the stupidest way possible. The whole thing is that this monster only kills people on Halloween. The day after, it disappears to not be seen again until the next year, or something. So Marley is injured and laying on the forest floor, next to a tree. The monster then starts to climb down the tree to face Marley. Marley has all but given up as she sent Emma away to get some help and she fears her life is over. Emma then appears, standing in front of the sun, covering it. Then she moves to the side so that the sunlight can hit the monster and destroy it. The thing that's so fucking stupid about this is the fact that Emma, in trying to look cool or add some drama to it, almost cost her remaining sister her life. Just let the fucking sunlight hit the monster, don't stand in front of it like a dumbass because you want a "cool" reveal of Emma finally doing something. Great, she went from being useless to a complete moron. That's not much of an upgrade. That was their idea. Really, the entire film is poorly written, but this idea to make Emma into someone who actually does something might actually have been one of the stupidest things I've seen in a long time. This movie really is quite terrible. Might not have seemed like it as I was watching it, but it was considerably worse once I sat down to write this. At least it was a relatively short film, so I can't complain about that. Everything else, however, is terrible and I can't imagine why anyone would actually want to watch this. Avoid.
Jesse Ortega
Super Reviewer
The Hollow Quotes
There are no approved quotes yet for this movie.