The Horror of Frankenstein
(1971)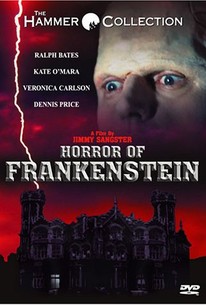 The Horror of Frankenstein Photos
Movie Info
This entry in Hammer Studios' Frankenstein series is a black comic tale of Count Frankenstein's son Victor Jr. (Ralph Bates), who slays his father to gain control of their ancestral castle and to romance the housekeeper (Kate O'Mara).
Critic Reviews for The Horror of Frankenstein
Audience Reviews for The Horror of Frankenstein
½
More or less a remake of The Curse of Frankenstein, I did enjoy this much more than I thought I would. Mainly due to fact that it is so delightfully self-aware as a late entry in the Hammer Frankenstein Franchise it is almost a self-parody and borders on Carry-on-Style humourous undertone. The story is the same old Shelley fare with the typical Hammer boobs and lush sets thrown in for good measure. The film is not a little bit scary, because it just does not take itself serious at all. Ralph Bates is a flamboyant, albeit a tad wooden lead and the monster looks hilarious ( think 70s bodybuilder, no talent and a blind make-up artist). Do you remember the angel dude from Barbarella, yeah, the monster kinda looks like that. The ending is quite anti-climatic, but in its denial of your common redemption for the villian chlichee it is refreshingly different, but still not very good on its own. If you like Hammer Horror, you will like this one too, but be prepared, it feels like the weird uncle around the table of the Hammer family.
Henrik Schunk
Super Reviewer
½
I finally took at look at this film after avoiding it for many years and it turned out to be the disappointment I thought it would be, anyway shorty after Frankenstein Must Be Destroyed. Hammer tried to recapture lightning in a bottle with an updated remake( or reboot as they call it now) of their big hit Curse Of Frankenstein. They did this with a younger Dr. Frankenstein, putting Peter Cushing out to pasture. Simultaneously, a greater emphasis was placed on black humor. Although the result is interesting, it's ultimately pretty disappointing. Ralph Bates, whom Hammer valiantly tried to turn into the next Cushing or Christopher Lee, stars as Victor Frankenstein. As always, he is interested in the secrets of life and death, and collects body parts for his experiments through less than lawful means. The love interests are his housekeeper, Alys (Kate O'Mara), and the woman who loves him, Elizabeth (Veronica Carlson). Assisted by squeamish friend Wilhelm Kassner (Graham James), Victor crafts a living man, murdering Elizabeth's father to procure a healthy brain. The monster (David Prowse, best known as Darth Vader) has a foul temper, however, and a murderous streak. Frankenstein puts this to good use by having the monster eliminate his enemies one by one. Meanwhile, the death of Elizabeth's father has left her a pauper and she runs to the shelter of Victor, but she doesn't quite count on the reception that she receives. A more vicious and sociopathic Frankenstein than one usually sees in these films, Ralph Bates portrays the title character as a completely unlikeable and vile creature. This no doubt helped contribute to the box office disappointment of this relaunch of the series. Whereas Cushing played Frankenstein as a single-mindedly determined man who doesn't let things like laws get in his way, Bates' version seems to almost revel in bloodshed and cruelty. This treatment makes audience identification nearly impossible. The supporting cast is very good, other than Graham James, who is nondescript at best. O'Mara makes a good saucy wench, and Carlson is drop dead gorgeous and charming to boot. Especially outstanding are Dennis Price as a resurrection artist who supplies Frankenstein with his raw materials, and Joan Rice as his eagerly complicit wife. They are both funny and likeable, which is a rather odd turnaround for a pair of grave-robbers. Yet it works quite well in context. This being a Hammer film, there's plenty of cleavage, not to mention improbable, gravity-defying bosoms. The gore is surprisingly limited; indeed, it's hardly as bloody as the 1957 version, making the R rating quite dubious indeed. As usual for Hammer productions, the set design is first-rate and the photography is attractive though not flashy. The comedy element is not outrageously funny, but it does have its moments. One of the most notable is the scene where Victor graciously introduces himself to his creation, only to be knocked silly by Prowse's sweeping backhand. The film has an oddly unsatisfying conclusion that seems to plainly leave the way open for a sequel that never came. After this film it was back to the Cushing/Frankenstein with the final film in the series " Frankenstein And The Monster From Hell"
David Ladd
Super Reviewer
½
An attempt to revitalise the 'Frankenstein' films via black comedy. It doesn't really come off as the plot loses its way once the monster is unleashed, becoming indistinguishable from any other Hammer 'Frankenstein' feature. The cast is fine - Dennis Price, very amusing as a grave-robber - though the monster and its make-up are lame. This was the one film in the series in which Cushing failed to appear. Though much maligned, I prefer this one to "The Evil of Frankenstein"
The Horror of Frankenstein Quotes
There are no approved quotes yet for this movie.