The Host
(2007)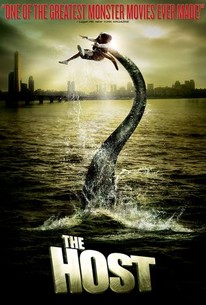 TOMATOMETER
AUDIENCE SCORE
Critic Consensus: As populace pleasing as it is intellectually satisfying, The Host combines scares, laughs, and satire into a riveting, monster movie.
Movie Info
When a young girl is snatched away from her father by a horrifying giant monster that emerges from the River Han to wreak havoc on Seoul, her entire family sets out to locate the beast and bring their little girl back home to safety in South Korean director Bong Joon-ho's big-budget creature feature. Hee-bong is a man of modest means who runs a snack bar on the banks of the River Han. Along with his slow-witted eldest son, Gang-du; Gang-du's young daughter, Hyun-seo; archery champion daughter Nam-joo; and unemployed, shirker son, Nam-il, Hee-Bong has managed to maintain a close relationship with his family despite the hardships that come with being a single father. When a rampaging fiend erupts from the Han and throws the city of Seoul into a state of emergency, Gang-du is heartbroken to see his precious little girl scooped up by the scaly creature and spirited away to an unknown destination. This is one family that always sticks together, though, and as the rest of the city denizens scramble to take cover, Hee-bong, Gang-du, Nam-joo, and Nam-il set out to prove that they're not letting their little girl go without a fight.
Critic Reviews for The Host
Audience Reviews for The Host
There's a monster loose in Seoul, Korea. Interestingly, as Godzilla was the result of Westerners' atomic bomb/racist inclinations in Japan, so too this holocaust in Korea, which the locals have to deal with. There's slapschtick comedy too. While seldom boring it does take awhile to get to the wrap up.
Kevin M. Williams
Super Reviewer
½
[img]http://images.rottentomatoes.com/images/user/icons/icon14.gif[/img]
Directors Cat
Super Reviewer
½
Not since the original Godzilla film has a monster movie been so great. The Host is a standout monster horror film that is superbly acted and directed. This is a straight forward back to basics film that doesn't overdo anything with its material. With this film, the filmmakers have created an intense and memorable monster movie that echoes some of the best in the genre. The story is well crafted and it keeps you involved from beginning to end. Nowadays, monster movies go for the found footage angle, which was good at one time, but now, it feels clichéd. The Host on the other hand differs significantly from this aspect, and creates something totally refreshing in the process. With that being said, this is a fine film that is edge of you seat entertainment and is sure to delight genre fans and any viewer looking for a good monster yarn to watch. This is a creepy and atmospheric horror film that uses elements of previous monster films to create something new and exciting. I really enjoyed the film and it ranks up there with the original Godzilla film as one of the greatest monster films ever made. This is what monster films should be, a simple, yet effective picture that manages to tell a good story with effective monster carnage. Most films with monsters that have been released Stateside, don't have that same appeal. I did enjoy Cloverfield, but it wasn't great either, it all style with barely no substance, it was fun, but it didn't have the elements to make it a standout monster picture. This film on the hand is a prime example of a great movie that stands out in the genre and can give American monster films a run for their money. The Host is a great movie that I recommend not only to genre fans but to anyone looking for a well crafted monster flick.