The Hound of the Baskervilles
(1988)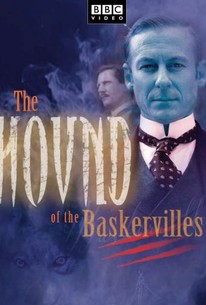 AUDIENCE SCORE
Critic Consensus: No consensus yet.
Movie Info
Probably the most filmed of all Sherlock Holmes stories, Arthur Conan Doyle's 1901 novel The Hound of the Baskervilles was given another go-round with this BBC television production. Richard Roxburgh, best known as the libidinous nobleman in the 2001 theatrical feature Moulin Rouge, is cast as The Great Detective, with Ian Hart as Holmes' friend, assistant and chronicler Dr. John Watson. The game is afoot when Holmes and Watson head to gloomy Baskerville Manor near the forbidding Grimpen Moor, the new home of young Sir Henry Baskerville (Matt Day). A number of curious events have led the detectives to the conclusion that Sir Henry's life is in danger -- that, in fact, he may at any time be torn asunder by a gigantic, vicious hound. Is this the fulfillment of "The Baskerville Curse," brought about by villainous debauchery of Sir Henry's ancestor, or is the would-be murderer a human being, using the legend of the Hound as a smoke-screen? Taking quite a few liberties with the original, The Hound of the Baskervilles was a nonetheless entertaining "shorthand" version of the Doyle classic. Making its British broadcast debut on December 26, 2002, the film was curiously premiered over Canadian television some five weeks earlier, on November 18. In the United States, The Hound of the Baskervilles was first seen as part of PBS' Masterpiece Theatre anthology on January 19, 2003.
Critic Reviews for The Hound of the Baskervilles
Audience Reviews for The Hound of the Baskervilles
½
An excellent reworking of this Sherlock Holmes story. Ian Hart's Watson is a strong, capable and intelligent character and Holmes is a walking computer and virtual emotional cripple. Richard E Grant is an excellent foil to Richard Roxburgh's Holmes. Great attention is paid to getting the Moor, The Mire and the Hound eerily right - not since the 1939 Rathbone version has this been achieved to such CRUCIAL effect. My only complaint is the nudge, nudge; wink, wink credit the production gives to the modern myth of homosexual undertones which was never even suggested in Conan Doyles original work.
The Shrewlord
Super Reviewer
The Hound of the Baskervilles Quotes
There are no approved quotes yet for this movie.