The House
(2017)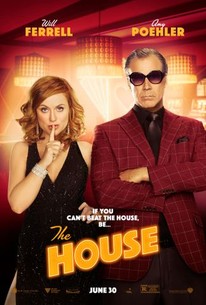 TOMATOMETER
AUDIENCE SCORE
Critic Consensus: The House squanders a decent premise and a talented cast on thin characterizations and a shortage of comic momentum.
Movie Info
Andrew J. Cohen directs this romp about a mother and father (Will Ferrell and Amy Poehler) who blow their daughter's college fund and start an illegal casino in their basement to recoup the losses.
Critic Reviews for The House
Audience Reviews for The House
I'm a person that's not prone to vices. I don't drink and I don't do drugs. Maybe online pornography, but let's not pretend that that's a thing in my life. Having said all of that, if I'm being completely honest, I do think that if I had enough money to waste and I was more outgoing, I think that the one vice I might consider indulging in would be gambling. More specifically, casino gambling. I don't think I'd do sports gambling or anything of the sort. The reason I say this is that I've been to a few casinos in my life, very few, like less than ten times. One of them was after prom with some friends, but we didn't really do anything. There were also a few times when I went to a hotel for New Year's that I ended up going to a casino that's within walking distance. I literally only played the slot machines, here's the grandma in me apparently. It was, of course, low-stakes since, again, I don't have the kind of money to waste away on the more high-end games, but there was something about it where I thought that if I kept at this, and I kept winning at the slot machines, that this could become a problem for me in the future. Since then, and this would have had to have been over six years ago now, I've not gone to a casino. Not cause of any conscious choice, it's just that it hasn't come up and it's not like I'm chomping at the bit to return. So even then, it's the sort of thing that I do if I'm already there, not something that I would actively seek out. Gambling addiction is a serious problem, but, if people win big, they get hooked on that high. So, in a way, I kind of understand that. Not saying it's justified spending all this money on a game of chance where, really, all the odds are set against you. Particularly if it's money your family needs more for whatever they may need, but I understand the need to reach that high again. Regardless, let's move on, shall we??? This movie is the comedic version of Breaking Bad, except not nearly as fantastic and not even close to being half as funny. Seriously, one of the genuine surprises I had from the second time I watched Breaking Bad in its entirety is how funny the series actually was. I suppose it's something you don't notice when you're waiting over a year in between seasons. I have the Blu-Ray boxset, so I didn't have to wait for seasons. Anyway, the point is that this movie sees Scott and Kate start an illegal casino with their friend (whose wife has left him and who's had his house foreclosed on by the bank) in order to make enough money to afford their daughter's college since the scholarship she was to get was ixnayed by the (crooked) city councilman (probably a republican). This movie follows the same Breaking Bad narrative path, in that Scott and Kate begin to do this out of necessity more than anything. But, as they get deeper into things and start making more money than they need, they start to get a sense of enjoyment out of it. It's adding that spark that was needed in their lives. Same thing with Walter White in Breaking Bad. Eventually becoming a meth kingpin gave him the kind of control in his life that he never felt he had. And you know what they say, absolute power corrupts absolutely. Seriously, though, Breaking Bad is just amazing storytelling from beginning to end. Walter's journey from loving father doing what he does to take care of his family after he's gone to drug kingpin, doing absolutely what is necessary in order to keep his business and family from collapsin (and he does some pretty heinous things) is just wonderful. Regardless,Scott and Kate eventually become sort of 'mob' bosses. Scott, who's a lame dad, becomes The Butcher after he accidentally chops someone's finger off and, later, that person's boss' hand (this guy is a real mob boss). Kate becomes The Burner, because she threatens people with blowtorches. If it doesn't great, it's because it isn't. I like Amy Poehler, Will Ferrell and Jason Mantzoukas as leads. They do about as good a job as they can with the material they are given but, really, that material isn't much to begin with. It just goes the ways you would expect. I already mentioned that Scott and Kate start enjoying this. The councilman eventually finds out about this casino, takes the money for himself and tells them to shut the casino down. Alex, Scott and Kate's daughter, eventually finds out about everything her parents have been doing and why they haven't been spending much time together. And not that there's a lot of room from creativity or deviation with a concept such as this, particularly if you're looking to make something a little more casual, even within an R-rating, then you had to play it safe. The sad thing is, though, because this movie has some surprisingly violent moments with the chopping of the finger and hand, it probably thinks that it's a really edgy movie. It's not edgy, it's just trying really hard to give it's bland R-rated material some more force and strength and, honestly, it just doesn't work. And it's a shame, because the movie is definitely solidly cast There's some good comedic talent on display here and the movie, unfortunately, wastes all of that talent. It's not even that the movie is terrible, as I found it perfectly watchable with some funny lines here and there. But, much like Fist Fight, the gag reel for this movie was funnier than the movie itself and the gag reel wasn't even hilarious anyway, so what the hell does that tell you? Though, Fist Fight, at the very least, was far more watchable than this. There's really nothing else for me to say about this honestly, it's a movie that exists. A movie that, really, didn't have much potential to begin with unless it had a really killer script. A movie that, really, will just fall by the wayside until its cult following praises it as the second coming of comedy genius and we will all do a reappraisal. Just kidding, that day will never come and this film will fade into obscurity, if it hasn't already. Watchable enough, but this is still not a good movie and I can't exactly give this a recommendation when there are movies like It, A Quiet Place and Deadpool 2 around.
Jesse Ortega
Super Reviewer
½
Will Ferrell and Amy Poehler star in The House, a mediocre R rated screwball comedy. When the town council revokes their daughter's college scholarship, the Johansens decide to partner up with a friend to open up an underground casino in order to get the money. Ferrell and Poehler (both former SNL cast members) play their characters way over-the-top, as if they're straight out of an SNL sketch. And the jokes are kind of hit and miss; with a lot clichéd and stereotypical gags. Though it delivers a few laughs, The House is a pretty forgettable and formulaic film.
Dann Michalski
Super Reviewer
½
A typical suburban couple, short on cash, decide to open a casino to fill in the stopgap. Okay, so its Will Ferrell and Amy Poehler, so toss that "typical" description right out the window. Its on their backs this baby runs, and incredibly they're short of gas (jokes) to go anywhere. After a moment I knew when either star was going to "turn it on" in order to sell a joke that, ummm, was simply not working, and therein is the rub. This is a nice visit to see old friends again, but by no means memorable.
Kevin M. Williams
Super Reviewer
The House Quotes
There are no approved quotes yet for this movie.