The House of Rothschild
(1934)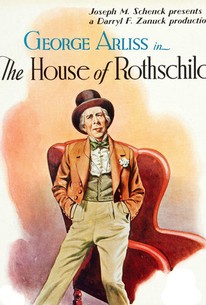 The House of Rothschild Photos
Movie Info
George Arliss plays Nathan Rothschild, the head of a family of celebrated 19th century Jewish bankers. Despite the anti-semitic efforts of a powerful politico (Boris Karloff), Rothschild moves in the best European social circles. He is ultimately knighted for his services to the English crown, which include the financing of the Duke of Wellington's battle against Napoleon at Waterloo. This being a Hollywood picture, the political and financial intrigues have to be offset by romance--in this case the love affair between Rothschild's daughter (Loretta Young) and a handsome military officer (Robert Young). The final scene was photographed in the newly perfected three-strip Technicolor process, though for many years the TV distributors either removed this sequence or reprinted it in black and white. Designed in part as an attack against the burgeoning anti-semitism movement in Hitler's Germany, House of Rothschild was ironically exploited by Nazi functionary Joseph Goebbels, who redubbed and re-edited the film to serve as anti-Jewish propaganda!
Critic Reviews for The House of Rothschild
Audience Reviews for The House of Rothschild
Who is George Arliss? Talk film with anyone, newbie fan to longtime devotee, and see who mentions him. Nobody. And yet he was something of an auteur in his day, respectable as a bank and better thought of. This is the first thing I've ever seen him in, the kind of thing he was most known for, historical bio-pics. And its an unusual bit too. A film about banking? Are you kidding me? And Jewish bankers no less? In a positive light? Talk about flying in the face of public perceptions! Wake me when it's over, okay? And yet: objective achieved. Because of George Arliss, class, humanity, distinction, purpose, he's the hub from which these qualities flow to and through the whole piece, a benevolent fatherly presence that's believable. I was impressed.
Kevin M. Williams
Super Reviewer
In my opinion this is a hidden gem from the thirties that doesn't get a lot of airplay but probably should. It is one of the first looks at anti-semitism on film and is a great history lesson as well as a great film.
John Ballantine
Super Reviewer
The House of Rothschild Quotes
There are no approved quotes yet for this movie.