The House of the Seven Gables
(1940)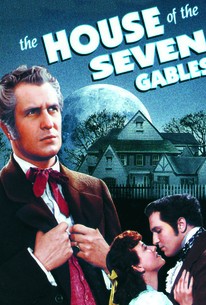 The House of the Seven Gables Photos
Movie Info
This fine adaptation of Nathaniel Hawthorne's classic tale about a cursed family opens with a title card that reveals how the Pyncheon family stole, cheated, lied, and murdered their way to wealth. But within the hearts of the family's bloodline lay fear of the curse of Matthew Maule, a man they crossed many years earlier. Jumping to the year 1828, upstart judge Jaffrey Pyncheon (George Sanders) is called to his family's beloved seven-gabled house where he is told by his father (Gilbert Emery) and brother Clifford (Vincent Price) that the home is to be sold in order to pay their debts. A bitter, loathsome man who deeply believes in Maule's curse -- and the legend that gold is hidden in the house -- Jaffrey takes the opportunity of his father's death to accuse the innocent Clifford of murdering their patriarch. Clifford is sentenced to life in prison, but in a bizarre quirk of legal fate, the house is left in the care of Clifford's lively fiancée Hepzibah (Margaret Lindsay), who immediately boots out the hateful Jaffrey. The passage of 20 years leaves the house in shambles and Hepzibah a bitter spinster. The arrival of two people -- Hepzibah's pretty young cousin Phoebe (Nan Grey) and a mysterious boarder named Matthew Holgrave (Dick Foran) -- spark Hepzibah into opening the old house as a business. Clifford is finally released from prison and returns home for a touching reunion, but after a serious a strange reports about him leak out, Jaffrey plots to have his brother committed. However, Clifford has some plans for his evil brother and a plan to end the family's curse.
Critic Reviews for The House of the Seven Gables
Audience Reviews for The House of the Seven Gables
½
If you've seen a lot of Price's movies you will notice that a scene from this movie is played out in his later movie Tales of Terror. With this film you get the whole story. I loved it, it's a great story.
The House of the Seven Gables Quotes
There are no approved quotes yet for this movie.