The House of the Spirits
(1994)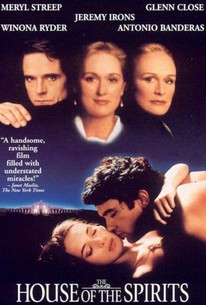 TOMATOMETER
AUDIENCE SCORE
Critic Consensus: An enviable collection of sterling actors are all woefully miscast in The House of the Spirits, a plodding saga of magical realism that lacks much magic or realism.
Movie Info
Bille August directed this film version of the Isabel Allende novel, featuring a cast that includes Jeremy Irons, Meryl Streep, and Glenn Close. The story is a sweeping and brooding melodrama, spanning generations and filled with violence, revenge, and telekinesis. The tale begins in South America in 1926, when a young man, Esteban (Jeremy Irons), falls in love with the daughter of a rich man, Rosa Del Valle (Teri Polo). He vows to become rich enough to make her his wife and spends months of toil in the gold fields to earn enough money to do just that. Before the two marry, however, Rosa is killed by poison meant for her father. After the tragedy, Esteban moves to Trés Marias, an abandoned ranch, and spends 20 years of his life turning the ranch into a thriving estate, exploiting the labor of the poor who live off the land. When he returns to the city, he comes across Rosa's younger sister Clara (Meryl Streep), now a woman with telekinetic abilities. Clara took a vow of silence years before, but upon the arrival of Esteban, she speaks for the first time in years -- "You have come to propose marriage to me," she says. Esteban and Clara marry, and Esteban takes her back to the ranch, where they have a daughter, Blanca (Winona Ryder). Their daughter falls in love with the son of one of Esteban's foremen, a hot-headed revolutionary named Pedro (Antonio Banderas). Now, the country is in the throes of revolution. Esteban banishes his sister Ferula (Glenn Close) from the ranch, beats his wife, and rapes a peasant woman. The product of Esteban's rape (Joaquin Martinez) grows into an angry young man who convinces Esteban to send him away to military school. When there is a military coup, the illegitimate son returns to Trés Marias with revenge and torture on his mind.
News & Interviews for The House of the Spirits
Critic Reviews for The House of the Spirits
Audience Reviews for The House of the Spirits
Even a high-powered cast cannot save this sketchy depiction of 70 years in the history of an unnamed country (reportedly Chile) as seen by three generations of aristocracy. Not quite an all-out embarrassment, but close.
Dean McKenna
Super Reviewer
Wow. I get the feeling the book was not nearly as crappy as this.
Sunil Jawahir
Super Reviewer
The House of the Spirits Quotes
There are no approved quotes yet for this movie.