Human Tornado
(1984)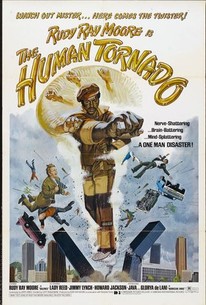 Movie Info
Once again the name Rudy Ray Moore spells action! In this sequel to the cult smash Dolemite, The Human Tornado finds Dolemite on the run from a redneck sheriff who has caught Dolemite "messin" with his woman. Dolemite and his posse dodge the sheriff and his bullets in an exciting high speed chase that leads to California. There's even more trouble in store for Dolemite when he finds his old friend Queen Bee (Lady Reed) and her Kung-Fu girls getting pushed out of the nightclub business by a ruthless and evil mobster. When the mobster has his goons kidnap two of Queen Bee's most beautiful girls, Dolemite and his men are off to the rescue. Rudy Ray Moore is at his best in this action-packed Dolemite episode. THE HUMAN TORNADO is loaded with martial arts, sexual high-jinx, and Dolemite's special brand of humor.
Critic Reviews for Human Tornado
Audience Reviews for Human Tornado
½
Moore followed up "Dolemite" with this hilarious sequel. From the opening credits featuring our hero performing dance moves in a variety of wild pimp outfits you know this is gonna be a riot. I'm no fan of martial arts but the fight scenes in this are so over the top and poorly choreographed they make compelling viewing. Moore even pays homage to Nicholas Roeg by inter-cutting a sex scene with footage of him chowing down on some post-coitus fried chicken. The theme tune is fantastic and this movie's soundtrack is a must-have for funk fans.
The Movie Waffler
Super Reviewer
½
Dolemite, you heard me!!! That's right he's back, and meaner than ever as the Human Tornado. The Human Tornado doesn't have anything on the original Dolemite, although I don't really see how this is a sequel. How is Dolemite all of sudden a rich pillar of the black community? Why does Blakeley the cop from the original (he's credited as Detective Pete, but they call him Blakeley) not know who Dolemite is? Other than that, all of the new characters are instant classics, from the gay guy on down to the sheriff, and even the new "creeper" wanna-be. But no one can ever replace Mitchell and White. They should have escaped from prison and helped the sheriff hunt down Dolemite. Now can you dig that? The best part of the movie has got to be Ernie Hudson's dramatic scene when his brother is shot. "He's just playin'! He's just playin'!" Other greats include the intro and Rudy's theme song, and the brief second Dolemite is shown eating chicken during sex. Hilarious Blaxploitation. So all you no business baring, insecure, rat soup eating motha's better watch out for Dolemite!!
Cassandra Maples
Super Reviewer
"He think he's bad and ain't got no class! I'm gon' rock this shotgun up his muthaf&@%n' ass!"
Brett Warren
Super Reviewer
Human Tornado Quotes
| | |
| --- | --- |
| Dolemite: | Bitch, are you for real!? |
| | |
| --- | --- |
| Dolemite: | He thinks he bad an' ain't got no class, i'm gonna wrap this shotgun up his motherfuckin' ass |
| Dolemite: | He thinks he bad an' ain't got no class, I'm gonna wrap this shotgun up his motherfuckin' ass. |