The Hunger
(1983)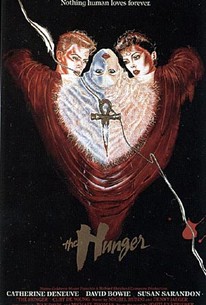 Movie Info
The exquisitely beautiful Catherine Deneuve plays Miriam, a centuries-old vampire capable of bestowing the gift of immortality on her lovers -- namely her current partner John (David Bowie). To sustain their sanguinary requirements, the pair cruises New York nightclubs in search of victims (as illustrated in a stunning opening sequence to the accompaniment of "Bela Lugosi's Dead" performed by seminal Goth band Bauhaus). When John awakens one morning to discover telltale signs of aging, it is revealed that his own sustained youth is not permanent, and his physical decrepitude begins to increase at an incredible rate. In a panic, John visits the clinic of scientist Sarah Roberts (Susan Sarandon), who has recently published a book on reversing the aging process, but she initially dismisses him as a crank, leaving him to sit in the lobby for several hours... during which his body ages several decades. After learning of his condition, Sarah traces John to his uptown flat. John is nowhere to be found, having been consigned by Miriam to a box in the attic with her legions of undead loves, leaving Miriam to deal with Sarah -- which she does quite effectively, seducing her into a steamy lesbian tryst. Their passion is consummated by a mingling of Miriam's blood with Sarah's, which later manifests itself as a psychic link between the two women and leaves Sarah with a rapidly-increasing appetite for blood. ~ Cavett Binion, Rovi
Critic Reviews for The Hunger
Audience Reviews for The Hunger
½
1983, u ninnies! i watched this in honor of bowie's 65th b-day :D don't know how i missed it back in the day but in 2012 it's actually quite fun. it's very stylish and dark and kinda sleazy. denueve and bowie are a stunning couple; too bad he disappears halfway through, but then we get a denueve-sarandon makeout scene so it's all good. or at least way better than twilight. sure, it doesn't make a lot of sense and it's shot like an mtv video but the cast is great and highly watchable: bowie is always impressive imo and deneuve is an ice goddess. plus the aging effects here are magnificent. happy b-day david! u still look pretty damn good!
Stella Dallas
Super Reviewer
British vampire thriller from Tony Scott that really really does look like one of those old Cadbury's Flake adverts from the 80's. The constant swirling sweeping silky curtains fluttering in the breeze for no apparent reason, pale females with too much makeup, birds flapping n swooping romantically about the set in slow motion and lots of sexual slobbering haha. Aside from that its not a bad vamp flick, extremely glossy and highly stylised but admittedly not much else. The plot and concept for the vampires is annoyingly confusing bringing up so many questions, why does only the lover/secondary vamp seem to age? why do they age when they are vamps? why do they age so quick? why does 'Miss Blaylock' age at the end? why does feeding on blood not save them etc...I could on. Really this feels like an experiment in film making and imagery, its very glamorous and classy looking with a cast to match...Bowie, Sarandon and Deneuve, one could almost say its one long perfume advert or music video seeing as the plot ideas are so unexplained. I also find it rather odd that this sultry female vampire is somehow able to store loads of coffins with rotting mummies in her attic without them being noticed (the smell?), and why she also seems to have a pigeon infestation up there too lol!, she sure does like long flowing silky drapes though. Definitely a cult and certainly worth seeing if you like vampire films, horror/thrillers or unusual one offs as films like this don't come along very often. Strongly advise seeing if you also have a Sarandon fetish hehe ;)
Phil Hubbs
Super Reviewer
½
This is Tony Scott's debut film, and, well, let's put it this way: had the rest of his films been done in the same manner as this one, then his career would be pretty different than the way it is. This is a vampie film based on a novel, though I use the term loosely as it isn't ever actually used in the film itself (almost self consciously it seems), and the rules aren't really established and not a whole lot is explained. The plot concerns a classy and sophisticated couple of fiends named John and Miriam (Catherine Deneuve and David Bowie) who are immortal. When he begins to suddenly age, they seek out the help of a geriatics researcher named Sarah (Susan Sarandon) who ends up becoming more than just a source of help for them, especially Miriam. I appreciate that this film tries to be something different, and is rather classy, sophisticated, and artsy, but it's also painfully slow and dull. Not much really makes a whole lot of sense, though the concept is kinda cool. The film is wonderfully shot, and looks beautiful, but the editing is awful and choppy, and really jarring at times. I didn't like the score, but I did enjoy the classical tunes that are used at times as well as "Bela Lugosi's Dead" by Bauhaus, who also cameo in the opening scene. The casting of the principals is good, and their performances aren't terrible, but not really great either. Cameos by Dan Hedaya and Willem Dafoe help things out a tad though. The makeup and effects are actually decent, but there's only really a couple of scenes that are all that great, the best being a tasteful love scene between Sarandon and Deneuve. I wouldn't call it erotic, but it is pretty sexy. The film doesn't really work, but for a directorial debut it could be a whole lot worse. That's kidna the problem though, since the film isn't a clear complete failure, it drives me nuts becuase it is a failure, but he has some redeeming aspects that almost make it work. I'm torn on this one, and don't really recommend it, but let's just chalk it up to good intentions gone sour and give it around a C or C-.
Chris Weber
Super Reviewer
The Hunger Quotes
There are no approved quotes yet for this movie.