The Hunger Games
(2012)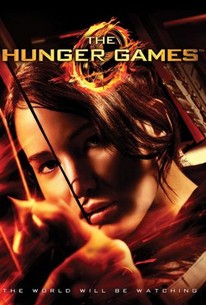 TOMATOMETER
AUDIENCE SCORE
Critic Consensus: Thrilling and superbly acted, The Hunger Games captures the dramatic violence, raw emotion, and ambitious scope of its source novel.
Movie Info
Every year in the ruins of what was once North America, the evil Capitol of the nation of Panem forces each of its twelve districts to send a teenage boy and girl to compete in the Hunger Games. A twisted punishment for a past uprising and an ongoing government intimidation tactic, The Hunger Games are a nationally televised event in which "Tributes" must fight with one another until one survivor remains. Pitted against highly-trained Tributes who have prepared for these Games their entire lives, Katniss is forced to rely upon her sharp instincts as well as the mentorship of drunken former victor Haymitch Abernathy. If she's ever to return home to District 12, Katniss must make impossible choices in the arena that weigh survival against humanity and life against love. -- (C) Lionsgate
Critic Reviews for The Hunger Games
Audience Reviews for The Hunger Games
½
Okay You guys know me doing reviews, well this is going to be a little different of a review and more of a rant. If you are a fan of this movie or the book thats fine, I personally haven't read the book so I can't say anything about the book badly, but I can about this film. I DESPISED this movie, GOD I F*CKING HATED THIS MOVIE! This film seriously felt like it hurt me in the chest, thats how bad I hated it, and I haven't felt that bad since seeing Vertigo, thats how much I hated first. First the acting. The acting in this film is done so poorly and so bad that I literally could predict every line, every bit of humor, every bit of emotion, so the acting leads little to the imagination and doesn't entertain at all rather annoy. The only actor who was mildly decent was Woody Harrelsons character, but its still a poorly written character along with all the others. Even Donald Sutherland, one of my favorite actors, is given little to work with and is just flat out boring. Along with Josh Hutcherson, I was hoping he would be entertaining like he is in other films like "The Kids are alright" or "Bridge to Terebithia." The main character is also not that interesting, she isn't that interesting, she is boring, and the way she acts is just not entertaining, and she just seems to have no emotion whatsoever even in this film. And there are so many characters that are brushed over that could've been interesting, so when those characters die, there is no sympathy you can show for these characters because of how poorly developed they were in the film, such as the Rue character in the film, you learn that she is watching over Katriss but you know nothing about her so when she dies there is no sympathy you can show to her. You don't know if she was a nice character or a compassionate character to other characters. Also this film suffers from completely despisable characters that are just annoying that get unsatisfying deaths. There is a girl who savors the death of Rue and taunts the main character when holding her down, and you just want to stab her, but no she is shoved into a metal wall and has her neck snapped, and not even in the satisfying way, just the Snap dead, not the flashy kind or satisfying. Next the action This was the only thing that I found somewhat decent, but the action is ruined by one thing, the shaky as hell camera. The camera in this film is almost as bad as the Blair Witch, and those people had a handheld camera, so its expected on why the camera would be shaky, this is a multi-million dollar movie, its the same problem I have with The Bourne Identity movies. The camera shakes massively and it is impossible to tell what is going on when there is a fight scene going on or when someone is being attacked or murdered. Other problems The film really has the problem of not explaining very much. Aside from not developing characters enough, the film has several moments that the dialogue in the film is so predictable, it goes for every single love story blow. It goes for them holding hands when alone, them holding someone up with their hand to save them, to kissing on the head then the mouth, to the dialogue being so damn predictable being every single love movie line ever, "Don't leave stay here" "I won't leave your side" blah blah blah. You wouldn't believe how many times I groaned and sighed when watching this movie. This is seriously all I can say about this film, I can seriously say that this is one of the worst films I've seen hands down. Again if you liked it, thats fine, but Me I can't stand it.
Michael Edwards
Super Reviewer
½
I haven't read the book so I can't compare to that. It's a well made film with a big production and talented cast. Tiny bit surprised at being a 12a rating, it's basically teenagers fighting to the death by killing each other off! Also a theme similar to many films, Running Man, Battle Royal, The Condemned. So not that original but decent enough to check it out.
The dystopic universe could have been better explored, while the shaky camera in the action scenes makes it a bit hard to follow what is actually happening on screen, but still this is an exhilarating movie that benefits a lot from great performances and charismatic characters.
Carlos Magalhães
Super Reviewer
The Hunger Games Quotes
| | |
| --- | --- |
| Katniss Everdeen: | How will they change you? |
| Peeta Mellark: | I don't know. Turn me into something I'm not. I just don't want to be another piece in their game, you know? |
| | |
| --- | --- |
| Gale Hawthorne: | Oh yeah, I forgot something. *brings out the bread* |
| Gale Hawthorne: | Oh yeah, I forgot something. |
| Katniss Everdeen: | Oh my God! Is this real? |
| Gale Hawthorne: | Better be. It cost me a squirrel. |
| | |
| --- | --- |
| Katniss Everdeen: | How many times is your name in today? |
| Gale Hawthorne: | Forty-two. I guess the odds aren't exactly in my favour. |