The Hunger Games: Mockingjay - Part 1
(2014)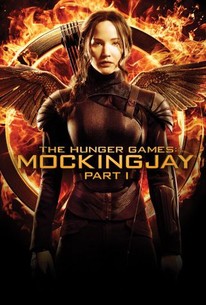 TOMATOMETER
AUDIENCE SCORE
Critic Consensus: The Hunger Games: Mockingjay - Part 1 sets up the franchise finale with a penultimate chapter loaded with solid performances and smart political subtext, though it comes up short on the action front.
The Hunger Games: Mockingjay - Part 1 Videos
The Hunger Games: Mockingjay - Part 1 Photos
Movie Info
The worldwide phenomenon of The Hunger Games continues to set the world on fire with The Hunger Games: Mockingjay - Part 1, which finds Katniss Everdeen (Jennifer Lawrence) in District 13 after she literally shatters the games forever. Under the leadership of President Coin (Julianne Moore) and the advice of her trusted friends, Katniss spreads her wings as she fights to save Peeta (Josh Hutcherson) and a nation moved by her courage. The Hunger Games: Mockingjay - Part 1 is directed by Francis Lawrence from a screenplay by Danny Strong and Peter Craig and produced by Nina Jacobson's Color Force in tandem with producer Jon Kilik. The novel on which the film is based is the third in a trilogy written by Suzanne Collins that has over 65 million copies in print in the U.S. alone. (c) Lionsgate
Critic Reviews for The Hunger Games: Mockingjay - Part 1
Audience Reviews for The Hunger Games: Mockingjay - Part 1
First and foremost I'm disagreeing with about a quarter of critics who said this movie lacks action etc. This movie was never about action sequences in fact its a movie about propaganda and the manipulation of the media. In fact this serves as a social commentary on our own society and how mass media influences our chain of thought and decision making. The second issue that critics are having is that once again this last book has been split into two movies. While yes it may be for an extra money grab, at the same time this movie in my opinion works more effectively than that of Harry Potter and the Deathly Hallows Part 1 and Breaking Dawn Part 1, in the fact that the events in this movie will lead to the revolution and war in Part 2. Moving on for those that think Jennifer Lawrence might be overrated as an actress I one suggest watching Winter's Bone and two she proves she is not overrated in this movie delivering a knockout performance as Katniss Everdeen and her PTSD scenes handled with amazing strength. The rest of the cast is also stellar with new additions such as Natalie Dormer as Cressida and Julianne Moore as President Coin proving capable in their roles. The revolution has begun and is televised.
Jarrad Climpson
Super Reviewer
Monkingjay Part 1 seems to be a placeholder for the final movie. It is OK; Katniss is still saving the day, and President Snow is still that bad guy, but this movie seems to fall short on content.
Leaving aside the action that was so present in the previous films to invest more in the characters, this third chapter is a grim, intelligent and riveting character study that finds space to discuss relevant matters like media manipulation and proves to be the strongest installment of the series so far.
Carlos Magalhães
Super Reviewer
The Hunger Games: Mockingjay - Part 1 Quotes
| | |
| --- | --- |
| President Snow: | It's the things we love the most that destroy us |
| President Snow: | It's the things we love the most that destroy us. |
| | |
| --- | --- |
| Gale Hawthorne: | I'm in pain. That's the only way I get your attention. |
| | |
| --- | --- |
| President Alma Coin: | Any other demands? |
| Katniss Everdeen: | My sister gets to keep her cat. |
| | |
| --- | --- |
| Katniss Everdeen: | Are you, are you coming to the tree? Wear a necklace of rope, side by side with me. Strange things did happen here, no stranger would it be, if we met at night, in a hanging tree |