The Hunted
(1994)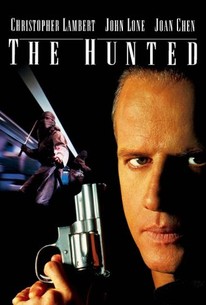 Movie Info
In this bloody martial arts thriller a New York businessman witnesses the murder of the mysterious woman he picked up for a one night stand. She is killed by Kinjo, a ninja assassin. Paul Racine is also wounded in the scuffle. Now he finds himself a target for the ninja cult. He finds help from a samurai who secretly plans to use Racine as a pawn in a plot to end an ancient feud. The Samurai's wife is also involved. The ninja's will stop at nothing to get Racine. They will even blow up a bus load of innocent people. But no matter what the ninja's plot, they can't seem to kill Racine. The final confrontation is held during a tremendous rainstorm.
Critic Reviews for The Hunted
Audience Reviews for The Hunted
½
[img]http://images.rottentomatoes.com/images/user/icons/icon13.gif[/img]
Directors Cat
Super Reviewer
Bit of a silly but highly enjoyable thriller set in Japan as Chris Lambert is hunted down by a clan of Ninja for disturbing a ritual killing. Funny thing is about this film is Lambert isn't really involved in much of the main action throughout, it tends to revolve around John Lone's Master Ninja character and Yoshio Harada's modern day Samurai. The whole film is rather basic really from the slightly bog standard action and fighting sequences to the rather cheesy and unfunny humour that has been wrongly chosen, the whole thing looks a bit like a TV movie really. My enjoyment came from my love of Japanese/Asian culture as a whole as I love to watch anything to do with the wild East. The film is basically held together by the gorgeous Joan Chen in a small role unfortunately, the inclusion of Takayuki Kubota in a funny role which isn't really that funny and wastes his skills and the legendary Yoshio Harada as 'Ichirou Takeda' the samurai, Harada's performance in this film is virtually unprecedented as he plays it completely seriously and looks damn good whilst doing so. His rough, weathered, wise looks, his deep, harsh, booming voice together with his fighting stance...the man IS a modern day samurai, the word 'epic' in the dictionary has a pic of Harada next to it. Lone can't quite get into the rhythm for me here, he doesn't quite fit his ninja character in looks or performance really (he is Chinese) and as I said Lambert is in the background really right up to the very end, but his out of place feel suits the film well. Average film with highlights from the Eastern world :)
Phil Hubbs
Super Reviewer
Christopher Lambert is a foreigner in Japan who gets caught up in a secret world of ninja cults and samurai warriors.... The Hunted is full of Japanese clichés - but that gives it its charm - the film *likes* Japan and enjoys sticking in such quintessentially Japanese scenery like castles, pachinko parlours, robotic toilets, the bullet train, taiko drummers (the famous drumming group Kodo appear), wooden bridges over rivers, paper screen doors, swordmakers, and of course samurai. Lambert is good throughout this film, his encounter with a mysterious lady in a nightclub is a sexy cliché, but Lambert's character is always likable and decent, and not stereotypically macho - he has to cower in a corner in some of the scenes where ninjas attack (although to be fair he was injured...) When Lambert manages to escape the first wave of (bloody) ninja attacks he goes to an island full of samurai who are dedicated to wiping out the evil ninja cult. In some ways it becomes a bit like The Last Samurai at this point, as Lambert's fish out of water has to learn how to handle a katana and bonds with a swordsmith. It is a silly film at times and, the dialogue is weak here and there, but it has some nice imagery of Japan, some brutal swordplay, and successfully keeps the a good pace. Not a perfect B action film but you could do alot worse, Check it out
David Ladd
Super Reviewer
The Hunted Quotes
There are no approved quotes yet for this movie.