The Hunting of the President
(2004)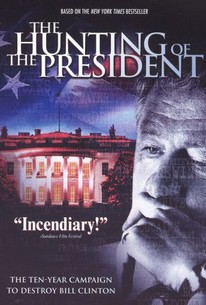 The Hunting of the President Photos
Movie Info
From the best-selling book by journalists Gene Lyons and Joe Conason comes The Hunting of the President, a documentary by filmmakers Harry Thomason and Nickolas Perry. Going back to Bill Clinton's time as Governor of Arkansas and tracing through his impeachment while President of the United States, the Morgan Freeman-narrated film attempts to shed light on the alleged organized campaign to topple the charismatic statesman. Along the way, Thomason and Perry attempt to explore on a more general level the effect and influence of the media and slander-machines on contemporary politics. Interviews with such contrasting figures as James Carville and Jerry Falwell are included alongside never-before-seen Clinton-era footage. The Hunting of the President premiered at a special screening during the 2004 Sundance Film Festival.
Critic Reviews for The Hunting of the President
Audience Reviews for The Hunting of the President
½
An interesting documentary about the Republican smear campaign that started before Clinton took the oath, and culminated in his impeachment (although with anything this one-sided, you have to take everything with a grain of salt). But, its somewhat ruined by constantly cutting to old film clips that are supposed to humorously parallel what the interviewees are saying, as if they felt their target audience couldn't sit still for a straight documentary about politics. I guess its the post-Moore style now.
The Hunting of the President Quotes
There are no approved quotes yet for this movie.