The Hurricane Heist
(2018)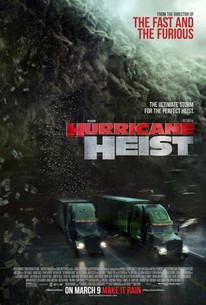 TOMATOMETER
AUDIENCE SCORE
Critic Consensus: The Hurricane Heist is a throwback to the overblown action thrillers of yesteryear -- and a thoroughly middling example of why they don't make 'em like this anymore.
The Hurricane Heist Videos
The Hurricane Heist Photos
Movie Info
Under the threat of a hurricane, opportunistic criminals infiltrate a US Mint facility to steal $600 million for the ultimate heist. When the hurricane blows up into a lethal CATEGORY 5 storm and their well-made plans go awry, they find themselves needing a vault code known only by one Treasury Agent (Maggie Grace), a need that turns murderous. But the Treasury agent has picked up an unlikely ally, a meteorologist (Toby Kebbell) terrified of hurricanes but determined to save his estranged brother kidnapped by the thieves. He uses his knowledge of the storm as a weapon to win in this non-stop action thriller ride charged with adrenaline throughout.
Critic Reviews for The Hurricane Heist
Audience Reviews for The Hurricane Heist
Die Hard meets Twister in the new thriller, The Hurricane Heist. When I first heard about this film, I was really excited and hoping for something new, but the truth was this film was nothing more than a compilation. A severe hurricane is about to hit the Gulf Coast, and U.S. agents are in town to secure the U.S. mint. As the storm bares down they are confronted by a gang of thieves intent on taking millions. The only things between them and freedom are a lone agent, two local boys, and one hell of a storm. There were so many parallels to other films that throughout The Hurricane Heist I was getting nothing but deja vu. At some points I felt like they should have just made the hurricane a series of tornadoes and called the film Twister 2. That was bad enough, but when you combine lack of originality with predictable behavior, you get a story that is very dull. What saves the film from being just another disaster movie are some amazing chase sequences, from the minds behind The Fast & The Furious, as well as some incredible special effects. This film is definitely an adrenaline rush, but the story, star power, and originality are severely lacking. I was expecting a daring robbery in the midst of a cataclysmic storm, instead I got Hard Rain, without the star power. In the end, The Hurricane Heist wasn't a terrible film to watch, but it was anything but memorable.
Todd Smith
Super Reviewer
I suppose first things first, I find it hilarious that the Rutledge brothers, Breeze and Will, both from Alabama and with thick southern accents, are played by an Aussie and a Brit respectively. I just found that, really, quite funny. Having said that, and I'll just get this out of the way, but Toby Kebbell's (who plays Will) southern accent is just terrible. He's a decent enough actor, but his accent is just forceful and completely unnatural to him. He's trying so hard. Ryan Kwanten's (Breeze) accent is better. I don't know by how much, but his felt more natural. Regardless, let's move on with the flick, shall we? I often wonder how the brainstorming process for films go. Like in general, especially if there's more than one cook in the kitchen, so to speak. How do you decide on a concept? How do you agree on where the story is gonna go? I imagine that it's easier said than done, given that there's gotta be a lot of egos involved and placating everyone is never an easy thing. Some people have better ideas than others, that's why you see a lot of turmoil in popular bands (if there are any popular bands in today's music landscape). Maybe sometimes a member of that particular band feels undervalued or isn't creatively fulfilled. I imagine that, writing a script with multiple people, is similar. Sometimes you have to compromise your own view of what the movie should be for the greater good. Having said that, how in the FUCK does anyone come up with this movie? I'm not saying that it's a stupid idea when you actually think about it. It's not like Monster Trucks where the idea is that the truck is actually a monster...or, rather, a monster inside the truck. Conceptually, that sounds really stupid. Setting a heist during a hurricane, at first, sounds stupid, but then you're like 'huh, this might actually make for a pretty exciting movie if handled correctly'. And I mean exciting in a B-tier action level, because that's all this was ever gonna be to begin with. Anyway, I just sort of imagine that there was a lot of marijuana involved and a lot of usage of the word 'bro' during the discussions of what this movie was gonna be. The first image that came to mind as I started to watch this movie and the hurricane was beginning to rage was an image of what an action movie would look for the SyFy channel if they commissioned one from The Asylum. Though, in fairness to the people that produced this movie, they managed to secure enough money to get some decent enough special effects, as opposed to The Asylum where the shitty special effects is part of the charm. I'll be honest, however, while there's no way that I would ever call this a good movie, I absolutely had no problem with it. Is it decent? I don't know, I don't think I would say that this is a decent movie despite the rating I give it. The reason I say this is because this is a movie that knows what it is and it is not trying to be anything else other than that. It knows it isn't the best action movie out there, it probably knows that it isn't even an average movie and, you know what, that's perfectly fine. There's nothing that I hate more than a shit movie acting like they're a gift to the viewing audience (like Drifter, as an example, since that movie was awful). This movie doesn't pretend. It is exactly what it is and you either take it or leave it and, again, I can respect that. I just think that they decided to focus more on the action side of things because, ummm, it's a movie called Hurricane Heist, if it didn't provide on what it delivered, then what would be the point of it all. Like I said, there's probably a good, tense movie with this same concept somewhere in this movie, but it's got to be handled more skillfully than this. And, really, it would have probably worked better with strong characters. There's some obvious stupidity. As an example, the villains partnering with more people than what they've got in their group. It's $600 million, so the last thing I'd want is more people than my core group to partner with me. And this happens a few times in the film. There's probably more than a few plot holes here and there but, honestly, this movie really isn't worth analyzing that deeply. That's not to defend the plot holes themselves, but it's like it really doesn't matter in the long run. This is a movie that's gonna come and go, much like a hurricane. But, unlike a hurricane, its effects aren't gonna be felt for a long time. Also, the climax of the hurricane, making it look like it's the apocalypse, is a little bit overwrought. My island went through two category 5 hurricanes (one of which really fucked us) last year and, while it was bad, the eye-wall did not look like a giant smoke wall. And I get that it was meant to be a stronger storm than they originally believed but, I mean, come on! Look at me, looking for "realism" in a movie about a heist taking place during a hurricane. Stupid me. Seriously though, don't look for logic or strong characters in this movie, because there is none to be found and, if you go in expecting it, then you're just gonna be pissed off. And, really, in that case, you only have yourself to blame. Again, that's not to defend the movie and what it does wrong, but sometimes expectations need to be adjusted accordingly. Not every movie has (or even needs) to be of incredibly high-quality. With that said, even as someone who wasn't expecting the next Fury Road from this, I still wish it would have been better. Seriously, though, does anyone get the feeling that maybe this was meant to be a direct-to-VOD movie but, when they saw how much money it cost to make, they decided to release it in theaters, just to see if they could make a quick buck. That clearly backfired on them, given that this was a bomb. Honestly, as much as I thought that the movie was watchable enough, this is not a movie I release in theaters. Also releasing it in March of this year did them no favors, March isn't exactly a great month for movies in general, much less for this type of specific action movie. They just threw it out there to sink or swim, ironically enough, and the movie sank almost immediately. I suppose that's not relevant to me one way or another, but it's interesting, because there's just no way I would have released this in theaters. I don't know what else to say. This is never the disaster as I was fearing it was gonna be. It's not good, but I got through it just fine and they make decent (but not great) use of the concept to provide a few B-tier thrills, but not nearly enough of them to make this good. I feel like the bad only slightly outnumbers the 'good' in the movie. The acting is slightly below average, with Toby Kebbell's terrible accent bringing the average grade down a bit, and the story is nonexistent and what is there is fairly nonsensical. I can't really recommend this, but watch at your own risk.
Jesse Ortega
Super Reviewer
This movie has a great title but falls short in all areas. it wants to be fast and the furious but it never really manages it. fun enough if you have nothing more to watch but there are better heist films out there.
Ian Walker
Super Reviewer
The Hurricane Heist Quotes
There are no approved quotes yet for this movie.