The Incredible Burt Wonderstone
(2013)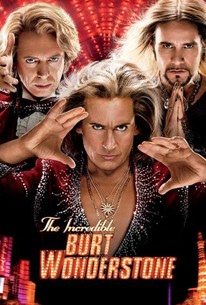 TOMATOMETER
AUDIENCE SCORE
Critic Consensus: The Incredible Burt Wonderstone serves up some goofy laughs, but given its outrageous conceit, it's surprisingly safe and predictable.
The Incredible Burt Wonderstone Photos
Movie Info
Superstar magicians Burt Wonderstone (Steve Carell) and Anton Marvelton (Steve Buscemi) have ruled the Las Vegas strip for years, raking in millions with illusions as big as Burt's growing ego. But lately the duo's greatest deception is their public friendship, while secretly they've grown to loathe each other. Facing cutthroat competition from guerilla street magician Steve Gray (Jim Carrey), whose cult following surges with each outrageous stunt, even their show looks stale. But there's still a chance Burt and Anton can save the act-both onstage and off-if Burt can get back in touch with what made him love magic in the first place.(c) WB
News & Interviews for The Incredible Burt Wonderstone
Critic Reviews for The Incredible Burt Wonderstone
Audience Reviews for The Incredible Burt Wonderstone
Now I'll just say I'm not a huge fan of magicians and never really had a big interest in magic and most comedies nowadays, but this film did peak my interest when I first heard about it. Not just because I really like Steve Carell, Steve Buscemi, and Alan Arkin, but the fact that this looked like this would be the triumphant comedic return of Jim Carrey since he really hasn't been funny for about 10 years. But sadly the actors and magic can't really help this film. Now, this is one of those movies that has a fantastic comedic cast, Steve Carrell, Steve Buscemi, Jim Carrey, James Gandolfini, and Jay Mohr, but even then, they aren't given a lot to work with. Carrell is really just an arrogant jerk most of the film which doesn't lead to a lot of jokes that aren't extremely predictable that we haven't seen with this type of character. Carrell does get some real good lines at some points in the movie and some of his actions also do get a few laughs but it leaves more to be desired from such a funny man. Buscemi is really just there for most of the film and I guess the joke with him is that he's just the nice guy that sits in the corner and doesn't get much of a say. Again, this has been done before many times before and done better, and again, like Carrell, gets some good funny lines at times, I just wish that the writers and Buscemi could've brought more jokes to the table with this character, because the 2nd half of the film he's gone almost all of it. Gandolfini is terribly unfunny in this film with little to no funny lines at all and when he does say something funny, it doesn't come off as funny it just comes off as just mean spirited. Mohr is really not that funny at all and really just more awkward then he is funny which I feel like was intentional but his performance and actions just come off as strange and really weird. Olivia Wilde, while not known for comedy, does get some good lines like Carrell and Buscemi but again, I wish they could've given her more jokes to work with because she, like Buscemi, will disappear from the film for about 15 minutes at times. Thankfully the film has three saving graces in terms of comedy. One is Alan Arkin, who not only does a very funny and memorable performance here, but is very likable in the role and gets a lot of great scenes in the film. Second is the scenes at the nursing home and the ending joke but I won't dare ruin that joke. And Third is anything involving Jim Carrey, Carrey is hands down the one thing that keeps this film watchable. Carrey is not only funny, this is how Carrey was back in the 90s funny, and this is how Carrey should've been acting these past few years. The delivery Carrey gives, the parody of Criss Angel, and the amount of pain that Carrey endures in this film is beyond hilarious. The only problem, he really isn't in the film enough to completely save the film. Some jokes mainly will fall incredibly flat, weren't that funny to begin with, or just straight up mean or low (Alan Arkins character at the hospital is a good example of that, you'll see why in the movie) and the film really prefers drama more than it does prefer humor which is false advertising in my book for a film that looked like and was marketed as a straight up comedy. Overall, while the magic elements in the film do look very cool, and some characters are likable in their own right, the comedy ranges from good to non existent, and the film really prefers to use drama more than comedy at many points in the film for a film that was marketed as a straight up comedy. Some jokes are straight up cringe-worthy, the hairstyles are just as over the top as most of the actors in this film, and the film is either too mean at points, adds unnecessary scenes and jokes, or it just loses interest in where the plot is going at points. I'd say I wouldn't see it again and I wouldn't really recommend it to people who don't like over the top comedy, but I'd say maybe if you're a fan of magic you can get into it and if you really like Jim Carrey you won't be happy he isn't in it as much as the film marketed it. The film really just left me with a desire for a lot more jokes, and I do understand why they add drama, but you could add a little more comedy to the film when you market like a straight up comedy.
Michael Edwards
Super Reviewer
½
I liked this film and found it funny. Cliche, but still funny.
Christian C
Super Reviewer
½
This movie succeeds at being the most laugh-less comedy movie I've seen in a while. How do you get together Steve Carrell, Jim Carrey and Steve Buscemi and squander it so badly? The story is an okay setup for comedy but fails. The plot was just way too poorly constructed too create any actual interest in what's going on. It's just so stupid. Things in the past have proven that magician jokes can be funny (Arrested Development!). It's like they wrote a script and never edited past the first draft. None of the characters go through any real change unless the plot demands it. We learn absolutely nothing about Jim Carrey's character except he does some crazy stunts! (Oh man, a Criss Angel parody! How relevant!). But the worst part of all is the end. So many horrifying implications are made based off of the end. Who ever green lit that ending probably doesn't have much oxygen going to his brain. Overall- The best thing I could say about this movie is that it had potential. So it took that potential and made it disappear. Where they thought they were going with this one I'll never know. Letter Grade: D
Chris Miele
Super Reviewer
The Incredible Burt Wonderstone Quotes
| | |
| --- | --- |
| Jane: | Is every woman who doesn't sleep with you a lesbian? |
| Burt Wonderstone: | No, I've slept with plenty of lesbians. |
| | |
| --- | --- |
| Burt Wonderstone: | Steve Gray Just mumbles and cuts himself. Anyone can do that! I have a niece that does that! |
| | |
| --- | --- |
| Burt Wonderstone: | He put a dog in my pants. He put a live dog in my pants. No one's ever done that to me before! |
| | |
| --- | --- |
| Burt Wonderstone: | I quit the business, I don't read the trades, and I'm late for my coma. |