The Incredible Jessica James
(2017)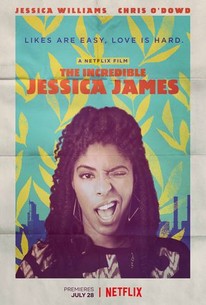 TOMATOMETER
AUDIENCE SCORE
Critic Consensus: The Incredible Jessica James makes its standard storyline feel new, almost purely on the strength of a captivating, potentially star-making performance from Jessica Williams.
The Incredible Jessica James Videos
The Incredible Jessica James Photos
Movie Info
An aspiring NYC playwright (Jessica Williams) gets over a painful breakup by bonding with a man who was also recently dumped (Chris O'Dowd). LaKeith Stanfield and Noël Wells co-star. Written and directed by James C. Strouse.
News & Interviews for The Incredible Jessica James
Critic Reviews for The Incredible Jessica James
Audience Reviews for The Incredible Jessica James
I've said this many times in the past, but when people praise Netflix for being the end-all-be-all for the future of entertainment, I just have to disagree. Yes, they have their quality hits like Orange is the New Black or films like Beasts of No Nation, but they also have their share of misses, just like any film studio or distribution company. That being said, their latest release in The Incredible Jessica James is one of the more charming films I've seen them release in quite some time. It doesn't do anything new in terms of storytelling, but when a film can make you feel for the characters and have you moved by the final few moments, then that's a home run in my opinion. This isn't a perfect movie by any means, but it's a great little film worth checking out, and here's why. Simply put, this is an offbeat romance about two people falling for each other after each being part of a break-up. Focussing equally on her love life as it does on her pursuance of becoming a playwright, there is something for everyone to relate to here. Whether you have been in a relationship in the past, are currently in a relationship, or just haven't quite made it where you want to be in life yet, there are many elements about this film that you will most likely enjoy. It also plays with its audience in making them believe they're watching a real scene, only to be fooled that it's a dream/vision, which I found quite funny as the film progressed. Jessica Williams and Chris O'Dowd share much more chemistry than I was expecting them to and that made the film worth watching more than anything, but that's also due to the fact that Jessica Williams delivers a stellar performance here. This is the first starring role I've ever seen Jessica Williams in, and to be quite honest, I can't wait to see more of her in the future. Not that she delivers an Oscar-worthy performance per say, but her commitment to this character really made me believe her actions were genuine throughout the film. When a film centres itself around one main character, it's imperative that the actor/actress gives their all. Whether or not you're supposed to like the character or not is irrelevant, because if you love them or even hate them as the character, they've done something right. What blew me away even more, was the fact that everyone seemed to be giving just as much dedication as her. I seem to be speaking a lot about the performances here, but that's where the praise of this film deserves to be, as well as the complaints. This is a movie about characters, period. If the characters don't have you buying into them then your experience with this movie will more than likely be a poor one. I found myself white-heartedly invested in where these characters were going to end up and the writing of this film felt very natural. That being said, there were almost too many scenes of natural-esque conversations between people that it almost began to feel unnatural at times. It felt as though the script (written by Jim Strouse, who's also the director) was too comfortably written, as though he was in a very relaxed mood when writing. This took absolutely nothing away from the film in terms of enjoyment, but it bugs me upon reflection. Quite honestly, I hadn't even heard about this film until recently, but the idea of it intrigued me enough to check it out on day one. Happily, I can say that this was a surprisingly very well-made movie that I will come out of 2017 remembering. It doesn't do anything mind-blowing or have any real twists to make it stand out, but it's in the subtitles that this film shines. For film fans in general, there are some very clever storytelling tactics used here and I can easily recommend this film to those of you who may be flipping through the Netflix catalogue this weekend. The Incredible Jessica James won't be known as one of the greatest films of the year, but I thoroughly enjoyed my viewing of it.
The Incredible Jessica James Quotes
There are no approved quotes yet for this movie.