The Infidel
(2010)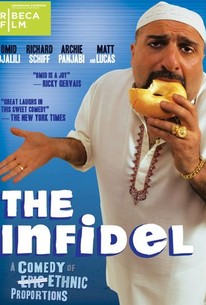 Movie Info
Meet Mahmud-Nasir, loving husband, doting father and something of a "relaxed" Muslim. He may not be the most observant, but in his heart he is as Muslim as it gets. After his mother's death, however, a discovery turns Mahmud's world upside down. He finds his birth certificate which reveals that not only was he adopted at birth -- but he's Jewish, and his real name is Solly Shimshillewitz! As Mahmud tumbles headlong into a full scale identity crisis, the only person he can turn to is Lenny, a drunken Jewish cabbie who agrees to give him lessons in Jewishness, which start with how to dance like Topol. Oy vey.
Critic Reviews for The Infidel
Audience Reviews for The Infidel
½
Sometimes silly and terrible odd movie that could look like The Birdcage. Anyway, David Baddiel wrote a funny fresh comedy with a political background, without forget the subject of different types of faith.
Lucas Martins
Super Reviewer
½
The Infidel in a way is kind of like Four Lions. It's not as good as Four Lions but it's a good satirical film that pokes fun at not only the muslims but also at the people that dislike them. Decently made little film from Britain.
Directors Cat
Super Reviewer
A Muslim Who Just May Be Jewish! The movie revolves around the life a London cab driver Mahmud Nasir, a decent, easy-going family man of very moderate Islamic views (he does not pray five times a day, nor fast every single day in the month of Ramadan and he occasionally has an alcoholic drink) who finds out that he was adopted and his biological parents are actually Jewish when his mother dies. Understandably upset by the threat this truth might bring to his normalcy, Mahmud hides the truth from his wife and from a son who's about to marry the step-daughter of a radical Pakistani cleric and for the lad's sake, Mahmud is prepared to pretend to be a devout Muslim. During this period Mahmud questions his identity and goes into a cathartic phase until logic prevails and he reaches a firm conclusion of who he is and what it means to be Mahmud Nasir.
Omid Djalili does a great job and his portrayal of the man torn between two ideas is natural and funny, as he explores the Jewish life by enlisting the help of a rival cabbie driver and American Jew who tries to teach him the Jewish traditions, to pass himself off as a parodic Jew so he can get past a protective young Orthodox rabbi (Matt Lucas) and get to see his elderly ailing birth father in a Golders Green old people's home. The Infidel provides some very funny moments and the cultural and religious clashes are hilariously depicted. The film explores this with wry humour which makes it easy viewing, and we note the prevalent use of the internet as a means for modern Muslims to keep current and in-touch. This movie reveals that we have some cultural heritages that don't always get along, but we're all just people and we have to share this world for better or for worse.
The Infidel Quotes
| | |
| --- | --- |
| Mahmud Nasir/Solly Shimshillewitz: | Give me a break! You find out you're Jewish and suddenly some bloke in a uniform is taking you away! |
| | |
| --- | --- |
| Mahmud Nasir/Solly Shimshillewitz: | For men women are like a buffet. You don't want to sit down until you've piled your plate up as high as possible. |