The Internship
(2013)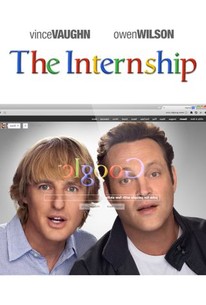 TOMATOMETER
AUDIENCE SCORE
Critic Consensus: The Internship weighs down Vince Vaughn and Owen Wilson's comic charisma with a formulaic script and padded running time that leans heavily on its stars' easygoing interplay.
Movie Info
Billy (Vince Vaughn) and Nick (Owen Wilson) are salesmen whose careers have been torpedoed by the digital world. Trying to prove they are not obsolete, they defy the odds by talking their way into a coveted internship at Google, along with a battalion of brilliant college students. But, gaining entrance to this utopia is only half the battle. Now they must compete with a group of the nation's most elite, tech-savvy geniuses to prove that necessity really is the mother of re-invention. (c) Fox
Critic Reviews for The Internship
Audience Reviews for The Internship
½
Vince Vaughn and Owen Wilson tone down their respective fast-talking and schlubby buddy routines as two middle-aged nobodies who land tech internships at Google based on sheer salesmanship. This mid-life crisis movie is actually rather uplifting in that good intentions and collaborative problem solving triumph over cutthroat post-college millennials who typify the adage "youth is wasted on the young."
Alice Shen
Super Reviewer
½
Writing mean things about actors is not something I readily enjoy, or hop into when dissecting bad films, but I have to say that watching Vince Vaughan and Owen Wilson play the same two characters for the trillionth time makes my empathy wear thin. They meander through idiotic dialogue and formulaic scenes with the same cruddy performances that they've been turning out since "Wedding Crashers." I will say that the script has a fairly original concept, but in execution it's simply a ginormous advertisement for Google. Google is shown as this untouchable, unattainable place where dreams come true and intellectuals thrive, which feels so fake and unwarranted. It's about as ego stroking as the Jobs biopic, and just as subtle. Still, there is a little bit of that same Wilson-Vaughan charm embedded in this film, though it's difficult to see it through the needless strip club scene, the "quirks" of the side characters, and the pandering to Google. If there's anything positive to be said it would be that this film is very light, and the message is that you can attain anything if you work at it, even if you don't think you're smart enough.
Spencer S.
Super Reviewer
Some of the jokes actually hit their mark, but overall The Internship is so cliche-ridden and unimaginative that nobody wins. Not even Google.
Sam Barnett
Super Reviewer
The Internship Quotes
| | |
| --- | --- |
| Nick Campbell: | Your reboot speed is amazing |
| Nick Campbell: | Your reboot speed is amazing. |
| | |
| --- | --- |
| Nick Campbell: | Imagine the greatest amusement park you went to as a kid, now imagine nothing like it and a million times better. That's where we are. |
| | |
| --- | --- |
| Billy McMahon: | there is no telling what this little girl on a squirrel diet could end up doing |
| Billy McMahon: | There is no telling what this little girl on a squirrel diet could end up doing. |
| | |
| --- | --- |
| Billy McMahon: | Professor Xavier is a total dick |
| Billy McMahon: | Professor Xavier is a total dick. |