The Intruder
(1962)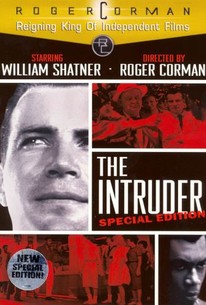 AUDIENCE SCORE
Critic Consensus: No consensus yet.
Movie Info
The Intruder was not only Roger Corman's most daring and unusual film, but a unique movie in the history of cinema, as one of the few theatrical feature films to deal with school desegregation in the South. William Shatner gives the performance of a lifetime as Adam Cramer, a sly, rabble-rousing racist who travels the South in the wake of the Supreme Court's Brown vs. Board of Education decision, fomenting protests and riots and organizing white citizens groups with himself at their head. By turns quietly soft-spoken and boldly charismatic, Cramer arrives in a small town where the local white high school is about to get its first black students and manipulates the men, women, and students around him, quietly taking control of the debate and the agenda, and turning a tense situation into a riot. He's opposed by Frank Maxwell, playing a local newspaper editor who pays a terrible price for his thoughtful and reasonable nature, Jeanne Cooper as a woman whom he tried to seduce, and Leo V. Gordon (in a rare benevolent role) as her husband, a working man without a lot of patience for rabble-rousers. In the end, after maiming one man and nearly killing another, Cramer is stopped when he is exposed for what he is -- weak and pathetic when confronted directly. The film was shot on-location in the South despite the active opposition of local authorities and threats from members of the Ku Klux Klan, and once finished, Corman discovered that there was hardly a theater anywhere in America that was willing to play it, because the movie's subject was so incendiary. Thus, The Intruder became just about the only movie Corman ever made that lost money, and was much more widely seen in Europe, where it was greeted simply as a bold, unusual, and well-made film. For reasons not entirely clear, The Intruder turned up on various "public domain" lists in the early '80s and showed up on different cable channels specializing in such fare, but it was never actually out-of-copyright, and finally surfaced in an authorized DVD edition in April of 2001. In addition to future television star Shatner, the cast includes the future soap opera star Jeanne Cooper. Charles Beaumont, a regular contributor to The Twilight Zone, among other anthology series, and whose novel was the source for the film, portrays the school principal. William F. Nolan and George Clayton Johnson, best-known as the authors of the novel Logan's Run, also play small roles.
Critic Reviews for The Intruder
All Critics (3) | Fresh (2) | Rotten (1) | DVD (3)
Shatner gives a very scary performance (this was pre-"Star Trek"). Corman's direction is gritty and uncompromising.
...suffers from an amateurish vibe that extends to virtually every aspect of the proceedings.
Hollywood should continually revisit the film for an example of how to tell a socially significant story without preaching
Audience Reviews for The Intruder
William Shatner's best came early, as a Northern rabble-rouser let loose in a small Southern town during the onset of integration. Well acted and directed, it may be the only film of its ilk that avoids the awkward preaching of so many similar films. A Roger Corman film??? You bet.
Kevin M. Williams
Super Reviewer
A stranger arrives in a small American town to stir up racial tension. It's a must-see.
Marcus Woolcott
Super Reviewer
please people, watch this, it's terrific. corman's best film. and who knew shatner could act. easily found on youtube
Stella Dallas
Super Reviewer
The Intruder Quotes
| | |
| --- | --- |
| Sam Griffin: | [to Adam] Boy, you gonna get grass stains all over those trousers, you don't get up. C'mon. That's better. I figure your work in this town's about over. Ya hurry you can catch the bus to Farragut, they've got trains there. If you're a little light on trav'lin money I'd be proud to - ...you're sure now? Oh, I almost forgot. These belong to you [pours several bullets into Adam's hand]. I wouldn't want to steal from you, Boy. |
| | |
| --- | --- |
| Sam Griffin: | You know something? We're in the same line, you and me. We're both selling something. Well I've been at it longer - I can see where you're making mistakes. And right now those mistakes are beginning to pile up on you, and in a little while they're gonna smother you. |
| Adam Cramer: | Get out of here. |
| Sam Griffin: | I've been studying your pitch - it's not bad you've got technique. But you know what's wrong? You're too clever, Adam. You've got no room in your head for intelligence. Cuz if you were intelligent you'd be able to see that you've started something that you can't control. You think you're the boss now? Wake up, boy, that mob's the boss! |
| Adam Cramer: | What do you know, ya big boob? |
| Sam Griffin: | Did you tell them to blow up the church? |
| | |
| --- | --- |
| Adam Cramer: | You go to school around here? |
| Ella McDaniel: | aHuh! |