8 Diagram Pole Fighter
(1984)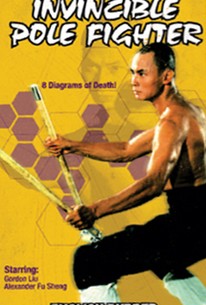 AUDIENCE SCORE
Critic Consensus: No consensus yet.
8 Diagram Pole Fighter Photos
Movie Info
Hong Kong filmmaker Lau Kar-Leung directed this excellent period-action film, one of the most highly acclaimed productions of the Shaw Brothers studio's later years. Its success is rather remarkable considering its troubled production. Young martial arts star Alexander Fu-Sheng -- who plays the sixth son of the Yang family -- died tragically in the middle of production, causing a hasty rewrite which shifted the film's heroics to the fifth son (Gordon Lau). The flow of the story doesn't suffer much, if at all, but it tends to veer from accepted legend as it tells the supposedly true story of a Sung dynasty-era massacre perpetrated on the Yang family by General Pan Mai (Ku Ming) and his Mongol allies which leaves only two of the large family's males alive. The sixth son manages to get home to tell the horrifying tale, but has been driven mad by his experiences (the plot device used to write out Fu Sheng). The fifth son has been aimlessly traveling the countryside, where he has another encounter with General Pan's troops and barely escapes with his life. Hungry for revenge, he decides to wait and become a Buddhist monk at the Ching Ling Temple in the meantime. As might be expected, his burning fury and lust for blood don't sit very well with Buddhist philosophy, and he is quickly asked to leave the temple. Yang number five is not so willing to do so, and promptly shaves his head and insists that he is staying, much to the monks' chagrin. It isn't long before word of her son's survival reaches Lady Yang (Lily Li), who orders her daughter (Kara Hui), the eighth Yang, to disguise herself as a man and bring the fifth Yang home. Yang number eight does as she is told, but is captured by General Pan's troops on her way to the temple, causing Yang number five to leave his hiding place and try to save her. The family's legendary pole-fighting technique is amply demonstrated throughout in superbly choreographed martial arts scenes orchestrated by the director, Ching Chu, and Hsiao Hou. Johnny Wang co-stars with Phillip Ko and Lau Kar-wing.
Critic Reviews for 8 Diagram Pole Fighter
All Critics (2) | Top Critics (1) | Fresh (2) | Rotten (0)
This late release from the Shaw Brothers Studio in Hong Kong is one of its very best, thanks to the kinetic direction of Lau Kar-leung.
A kung fu classic that also deals with PTSD and the double-edged sword of family obligations, The Eight Diagram Pole Fighter is a work of imaginative joy.
Audience Reviews for 8 Diagram Pole Fighter
Where to begin? Incredible fight scenes, incredible cast, sadly the last film from Alexander Fu Sheng. That last fight scene is the greatest thing since the invention of porn.
Tsubaki Sanjuro
Super Reviewer
Also called Eight Diagram Pole fighter. I could go on and on, but to put it simply this delivers on all counts of a great Martial Arts film, especially a Shaw Brothers on. You have beautiful direction by Lau Kar Leung (Liu Chia-Liang). Great sets. Interesting characters and story. Concentration on weapons and their pay-offs are handled so well. The Subtext. Gordon Liu... Um oh how about action. This sucker delivers some of the most amazing stunts and action scene even commited to celluloid. It's worth the search you'll have to do to find it.
Patrick Dolan
Super Reviewer
½
One of the better Shaw Brothers Kung Fu Movies.
Anthony Valletta
Super Reviewer
8 Diagram Pole Fighter Quotes
There are no approved quotes yet for this movie.