The Invisible Guest (Contratiempo)
(2017)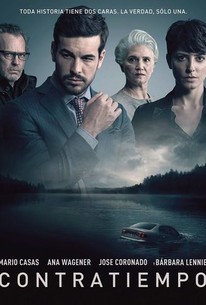 The Invisible Guest (Contratiempo) Photos
Movie Info
Adrian Doria, successful businessman, has been charged with murder. To defend her innocence, she has hired Virginia Goodman, the country's best witness trainer. After working all night on your strategy will appear a new charge witness that will shake your plan.
Critic Reviews for The Invisible Guest (Contratiempo)
Audience Reviews for The Invisible Guest (Contratiempo)
The type of cheesy, implausible and mediocre thriller that believes to be so clever with endless unbelievable twists which are in fact worthy of a Mexican soap opera - overrated while it lasts and destined to be forgotten in the dark pits of late night reruns on cable TV.
Carlos Magalhães
Super Reviewer
Letitia Lew
Super Reviewer
Ah twists. Can't live with them, can't live without them. Ever since The Sixth Sense, to me at least, it seems that a lot of these mystery/suspense/thrillers usually try to give it a shocking twist. Sometimes these twists works, like in the original Saw for example, because they make perfect sense (and this is the only time when a twist SHOULD be executed). Sometimes they're just there to provide shocking 'I did not see that comment' moments but, when examined, they're about as stupid as can be. An example of this would be The Village, which had a shocking twist, but it was one that didn't make sense within the context of the story as it wasn't relevant to anything that was going on at all. I think we get more of the latter than we do the former. Not saying that's always the rule, but more often than not the twist is there just to shock you and not because it makes sense within the context of the narrative they're telling. This brings us to this movie. I will say one thing and that is the fact that there are some movies that completely rely on the twist. It either makes or breaks the movie. Not because the movie itself is bad, but they're just completely relying on the reveal to sway you one way or the other, though I'm sure they're hopeful you think it's good. This isn't one of those movies, however. I think it provides some good entertainment in the lead-up to the twist and, really, the twist sort of strengthens that entertainment. I will say, though, that I found this movie to just be good, at best. The twist itself is tremendous and makes perfect sense within the context of the movie, but I just found the rest of the narrative itself to be a little lacking. And perhaps that's not even the right word to describe it. I remember reviewing a South Korean movie about a month ago called The Truth Beneath. I thought it was a very good movie because it kept you guessing right up until the very end. It was very twisty and turny, they introduced new elements and new characters in order to give the film some more angles to explore. And I'd have to say that this movie is similar in that it keeps you guessing until the very end. But it doesn't do so by exploring different angles with new characters to offer different perspectives. It does so by exploring every possible thing that could have happened to Adrian that led him to be in the hotel room where his mistress was murdered. I'm not even gonna get into all of the different theories the film put forward, because I would be here forever. The point is that I found this approach to telling the story to be a little problematic. Adrian isn't a reliable narrator and you cannot buy a word he says. He engages in subterfuge constantly, so he's obviously not a man you can trust. But I just found that the movie engaged in a little too much of misdirection in order to make the film longer than it was. I'm not saying it could have been simpler told, since the movie is still relatively easy to follow, but after the third theory you're like 'ok, get to the fucking point already'. And I understand what they're going for, Goodman (the lawyer) is trying to get to the real truth of what happened that led to Adrian being in the situation he finds himself in and that requires exhaustive research and interrogation. But I was, honestly, mentally done after the third or fourth theory as to what really happened. I still found the film to be good and the mystery itself is compelling enough to take you through some of the rougher moments, but I felt that it never reached a great level. Hell, it didn't even reach a very good level. But that's just me, I'm sure plenty of people liked this more than I did. But I have a theory on that and that's because the twist itself was actually so good that they sort of forgave some of the film's weaknesses. I was honestly taken aback that I hadn't even noticed itself until moments before the actual reveal. But the fact that they 'got' me doesn't mean that I'm gonna overlook some of the issues I had with the film. The acting is very good, no complaints there. Spain has always had some really talented actors, so Mario Casas, Barbara Lennie, Ana Wagener and Jose Coronado are all great at their roles here, particularly Ms. Wagener. But, I digress, I have a lot of issues with this film trying to extend its narrative past when it should have gone, but this is still a good movie with a great twist. I wouldn't give this a glowing recommendation, but I enjoyed it nonetheless and if you like a good mystery, then this will do just fine.
Jesse Ortega
Super Reviewer
The Invisible Guest (Contratiempo) Quotes
There are no approved quotes yet for this movie.