The Island
(1980)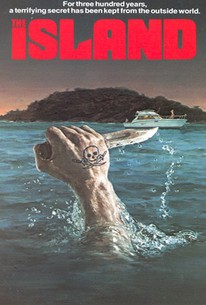 Movie Info
Michael Caine stars in this Michael Ritchie thriller as Maynard, a newspaper reporter who embarks on a search to discover the mystery of the Bermuda Triangle and becomes a prisoner of a primitive island tribe.
News & Interviews for The Island
Critic Reviews for The Island
All Critics (5) | Fresh (2) | Rotten (3) | DVD (2)
The biggest flaw is that the pirates aren't particularly frightening or imposing, instead coming off as Peter Pan's Lost Boys all grown up -- to riff from Kentucky Fried Movie, they aren't tough and ruthless so much as they're rough and toothless.
Another one of Caine's big bombs!!
March 21, 2003 | Rating: 1/5
ragtag modern-day pirates live in a primitive island society, eschewing most forms of modern technology . . .They're kind of like Amish . . . only they're pirates
Audience Reviews for The Island
This film is one of those 80's gems that have been neglected by critics and filmgoers. I was pleasantly surprised that this one wasn't as bad as what everyone has claimed it to be. The film does a good job at combining certain genres of film, and it works. While combining a few different elements of various genres of film, director Michael Ritchie crafts this underrated 80's survival horror gem mixed with thrills, action and adventure. As far as I'm concerned, this one is a fun, entertaining two hours that is fairly mindless if you can forget how corny it is. The strengths of the film lie in the use of multiple genre elements to create its story, and in turn, it manages to be an entertaining ride. The film's biggest problem is that it leaves a lot to be desired in terms of a memorable plot. The good ideas were here, but it suffers due to the fact that director Ritchie tries to pack so much material that is unfinished in a two hour run time. The film goes from a survival horror flick to a thriller and action film without smooth transition and it leaves you wanting more out of the film. For what it is, it's fun, but it could also have been better considering the plot. I don't think this is a bad film, I just feel it's a tad underdeveloped. In terms of survival horror/thrillers are concerned, This one works as a pleasant time waster, just don't go expected a great film with this one as this one leaves a lot to be desired.
It takes a good hour for this movie to finally reveal it's true colors as the 70's era Michael Caine fighting 18th century pirates movie that it is. And I'm sorry to report that it isn't nearly as cool as it sounds, mainly because Ritchie clearly can't direct traffic, let alone the action sequences in this film. Almost everyone of them is plagued with bad under-cranking (thats sped up action for those of you playing at home.) And while the film tries to walk the fine line of surreality, it constant plummets off the cliffs on silliness. In one of the earlier scenes in the movie, Michal Caine is guilt-ed into buying his son a handgun, by his son. If you feel thats a slightly odd thing to happen, well then you are in for a treat. Because the strangeness keeps on keeping on. There a couple of cool scenes. The William Tell-esque scene is fun, the storming of a yuppie yacht is pretty cool too. But instead of concentrating on the awesomeness of Caine fighting pirates, it instead concentrates on Caine's son becoming a pirate. the picture ends up feeling like a tarted up version of Hook with a bit of nudity. That said, I must repeat. Michael Caine fights pirates (for about 30 minutes)
Ken Stachnik
Super Reviewer
Kinda corny yet mostly charming adventure/thriller with Caine delivering his occasional deadpan humor as only he can. Other than a really terrible scene involving a would-be Bruce Lee the film is pretty cringe free considering it's a 1980 Universal film.
A.D. Villarreal
Super Reviewer
The Island Quotes
There are no approved quotes yet for this movie.