The Jazz Singer
(1952)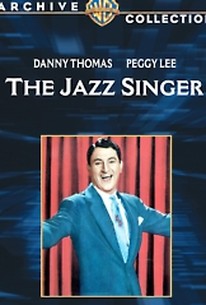 AUDIENCE SCORE
Critic Consensus: No consensus yet.
Movie Info
This second screen adaptation of the Samson Rafaelson play The Jazz Singer is better than the first, though not as historically important (the early Jazz Singer, it will be recalled, sparked the "talkie revolution" way back in 1927). Danny Thomas assumes the old Al Jolson role as the cantor's son-turned-cabaret entertainer. As Jerry Golding (Thomas) scales the heights of show business, he breaks the heart of his father (Eduard Franz), who'd hoped that Jerry would follow in his footsteps. Sorrowfully, Cantor Golding reads the Kaddish service, indicating that, so far as he is concerned, his son is dead. A tearful reconciliation (and a more upbeat denouement than was found in the original film) occurs when Jerry dutifully returns to sing the "Kol Nidre" in his ailing father's absence. Peggy Lee co-stars as Judy Lane, a musical comedy entertainer who falls in love with Jerry, while Mildred Dunnock and Alex Gerry do what they can with the stereotyped roles of Jerry's mother and uncle, respectively. This 1952 Jazz Singer has its faults, but it is vastly superior to the empty-headed 1980 Neil Diamond/Laurence Olivier remake.
Critic Reviews for The Jazz Singer
All Critics (2) | Top Critics (2) | Fresh (1) | Rotten (1)
It's ragged and dull until the magical moment when Jolson turns to the camera to announce, "You ain't heard nothin' yet"-a line so loaded with unconscious irony that it still raises a few goose bumps.

A fine mixture of song and sentiment, this modern version of The Jazz Singer has all the heart quality of the original, emerging as a tender, poignant film.
Audience Reviews for The Jazz Singer
½
Hokey but colorful. Danny Thomas wasn't much of an actor but he sang well enough, what matters more is that Peggy Lee is in the movie and sings several songs. That makes whatever malarkey you have to sit through worth it.
The Jazz Singer Quotes
There are no approved quotes yet for this movie.