The Jeffrey Dahmer Files
(2013)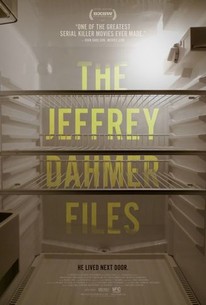 The Jeffrey Dahmer Files Photos
Movie Info
In 1991 Jeffrey Dahmer was arrested in Milwaukee and sentenced to 957 years in prison for killing 17 people and dismembering their bodies. 'Jeff' explores the city of Milwaukee by meeting those surrounding Dahmer during and after his hidden spree. Recollections from Milwaukee Medical Examiner Jeffrey Jentzen, Police Detective Patrick Kennedy, and neighbor Pamela Bass are interwoven with archival footage and everyday scenes from Dahmer's life, working collectively to disassemble the facade of an ordinary man leading an ordinary existence. (c) Official Site
Critic Reviews for The Jeffrey Dahmer Files
Audience Reviews for The Jeffrey Dahmer Files
½
A poorly-put-together combination of talking heads and cheap re-enactments that offer no real insight into the mind of a serial killer, basically telling what many of us already know and not being that interesting for those who know nothing about the case.
Carlos Magalhães
Super Reviewer
Interesting experimental documentary about serial killer Jeffrey Dahmer uses recreation and archival footage to tell the events of the capture of the depraved killer. Although not very long, The Jeffrey Dahmer Profile is an interesting film, and it is one that is shocking from start to finish because Dahmer's crimes were despicable. The cast do a good job in the reaction parts, and some of the footage used, is quite disturbing, but necessary in order to tell a broad story of Dahmer's crimes. Viewers interested in the subject will surely find this a fascinating viewing experience, and one that you won't forget. The Jeffrey Dahmer Profile is not for everyone, but to those interested in the subject, this is a must watch. As a documentary, the film works well, but it's far from be8ing a standout in the genre. I would say that this is a good movie, but considering its run time, it doesn't really go in depth about the subject of Dahmer. Fo9r a short film, it gives you an idea of what happened, but it does feel a little light. The recreations are well done, and work well, but a straight forward documentary would have been better. Since this one recreates most of the events for the duration of the film, I think that this film could have benefited from a more realistic approach to9 the events by documenting the facts with actual interviews from those involved in the case. The film works to a certain degree, but in the long run it could have been a much better movie as well. As it is, it's good, but it could have been better as well.
The Jeffrey Dahmer Files Quotes
There are no approved quotes yet for this movie.