The Jetsons
(1990)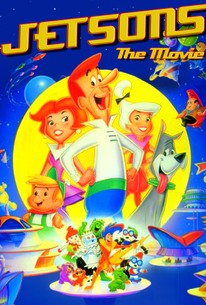 Movie Info
Hanna-Barbera's Space Age clan made the leap to the big screen in this animated feature, in which George and the family are transferred to a remote space outpost. ~ Jason Ankeny, Rovi
News & Interviews for The Jetsons
Critic Reviews for The Jetsons
Audience Reviews for The Jetsons
Firmly stuck in the 80s, this film adaptation of the TV is humorless and jam packed full of music that the future will easily forget. This could've been one of the better TV show to movie conversion but some poor direction hurts the film instead of pushing it forward. The voice acting from the younger characters is a tad over the top and very poor at times, especially the younger boy Jetson. It's interesting to see where The Simpsons discovered some blueprints but for story or character development, this film really misses the point. Fingers crossed for a remake.
Brendan O'Connor
Super Reviewer
½
Jetsons: The Movie is a harmless animated picture the entire family can watch without worrying about corrupting the younger kids. The animation is solid for 1989 (watch for some early uses of CGI) and it has the occasional chuckle. It may ooze with nostalgia for audiences who grew up with the original cartoon, but there's something off about this version. As with many things in the 1980s (Star Trek IV, for example), Jetsons: The Movie centers itself on protecting the ecosystem and why capitalism is bad, though not in those terms exactly. The messages are heavy-handed when the movie gets around to them; the other main attraction here is Tiffany as Judy Jetson, a supporting character who gets more screentime than her by-the-numbers subplot demands. A bad movie? No, not at all. A bit dull and lacking the oomph which says the events will be a game changer in the Jetsons universe. At least the film is actually a film and not three television episodes strung together.
Jason Vargo
Super Reviewer
½
I always thought that the Jetsons should have a movie, a live action movie, really, but this was pretty good anyway. It's an entertaining kids movie.