The Kid
(2000)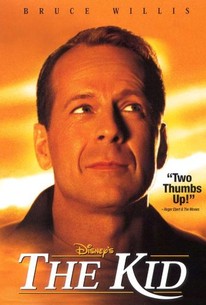 Movie Info
If you could talk to the child that you used to be, what advice would you give him? That question forms the basis of this comic fantasy. Forty-year-old Russ Duritz (Bruce Willis) is a wealthy and powerful "image consultant" who has made a career out of telling people how to present themselves. But while he's a success in business, he's a failure in life; he's vain, mean-spirited, and hasn't been able to hold onto a marriage (or even a pet dog). One day, Russ is startled to meet Rusty (Spencer Breslin), a stocky kid whom he soon realizes is himself at the age of eight, having passed through a wrinkle in time. Young Rusty doesn't seem much happier than the grown-up Russ, so the older man takes his younger self under his wing and tries to teach him how to avoid the mistakes he's made, while Rusty encourages Russ to be a more caring human being. Along the way, Russ and Rusty become friends, and realize how much they can learn from each other. Disney's The Kid also stars Jean Smart as one of Russ' clients, Lily Tomlin as his assistant, and Daniel Von Bargen as his father. ~ Mark Deming, Rovi
Critic Reviews for The Kid
Audience Reviews for The Kid
This is a cute movie about a man who is being followed by himself as a kid. He learns what he needs to do to change the course of history. Good plot. Good cast.
Candy Rose
Super Reviewer
Russ Duritz (Bruce Willis) is a successful, but not so happy image consultant. Something might change for him when his 8-year-old self visits himself. That means that Russ gets to see what he was like when he was 8, but what could this lead to? I've always thought that Bruce Willis was a great actor in all of his movies, especially when it comes to the action ones such as the Die Hard series. I don't know what kind of movie most people would put "The Kid" in, but I thought it was a mix between comedy and drama. Bruce Willis proved in "The Kid" that he can be just as great of a comedy actor as he can in action ("Die Hard") or any other kind of film such as "Mercury Rising" and "The Sixth Sense." There were several parts such as when Bruce Willis had a nervous breakdown, that had me laughing out of control. Not only is "The Kid" a hilarious movie, it also has a sort of deeper meaning to it that I'll let you find out for yourself. I know in ways I wish I could see a younger version of myself and learn more about the ups and downs of my past that I don't remember. If you've got any kid left in you or if you just want to see a great movie, do yourself a favor and purchase "The Kid." NOTE: That was my Amazon review from the year 2001. One of those handful of Disney movies you've never heard of, that isn't a cartoon, but is awesome.
Jason Owens
Super Reviewer
½
Positives: Bruce Willis plays a pretty amazing role. The entire reason this movie can be called semi-sucessful. It has a lot of funny part's and the plot is interesting enough too keep you glued through out the movie. Negatives: The supporting actors were never really that good. Spencer Breslin was a nice touch but at this point he still was not that great of an actor - he was okay, but like most child actors, partially annoying. The movie's ending was touching but also has some missing strings. There's parts that are simply left unexplained and may have you wanting some answers. Overall the movie is a typical Diseny Film with an expected cast and ending. The unexpected is the twist in the storylines that keep it interesting. It's funny, interesting, and worth watching. If your a kid - probably worth having but it's not the next diseny classic.
Bobby Hobbs
Super Reviewer
The Kid Quotes
| | |
| --- | --- |
| Deirdre Lafever: | How many of us grow up to be astronauts or prima ballerinas? We just all do the best we can. |
| | |
| --- | --- |
| Rusty Duritz: | Man, do we ever stop blowing it? |
| | |
| --- | --- |
| Rusty Duritz: | Holy Smokes! 99 channels and there's nothing on. |
| | |
| --- | --- |
| Rusty Duritz: | This is scary. |
| Russ Duritz: | No, this is hilarious. |