The Kids Are Alright
(1979)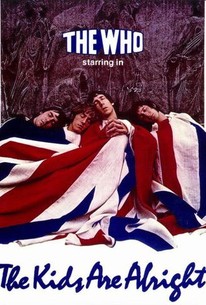 The Kids Are Alright Photos
Movie Info
This collection of tunes from The Who include "Pinball Wizard," "My Generation" and many others. Includes promo clips, and other appearances.
Critic Reviews for The Kids Are Alright
Audience Reviews for The Kids Are Alright
A cracking compilation of archive interview and performance footage of The Who. This type of thing usually gets no further than preaching to the converted, but "The Kids Are Alright" is exceptional in that it could just turn you on to a band you might previously have been ambivalent about. What is abundantly clear to anyone is that they were an awesome live act, comprised of the best rock bassist, perhaps the best drummer and one of the most original songwriters of the era. Oh, and Roger Daltrey. The downside is that the interview footage is not especially illuminating. John Entwistle is largely reticent and Keith Moon hides behind his genial twit facade, but Daltrey manages to drop a few pearls of honest, no-nonsense wisdom. Pete Townshend comes across as a fascinating character, alternately self-effacing, jokey or pompous depending on how highbrow the interview is. My highlight was watching them record "Who Are You?" in the studio.
The Kids Are Alright Quotes
There are no approved quotes yet for this movie.