The Kingdom of Dreams and Madness
(2014)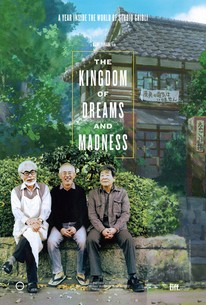 TOMATOMETER
AUDIENCE SCORE
Critic Consensus: The Kingdom of Dreams and Madness is a captivating treat for Studio Ghibli fans -- and may prove nearly as entertaining and enlightening for the unconverted.
The Kingdom of Dreams and Madness Photos
Movie Info
About Hayao Miyazaki's life and Studio Ghibli.
Critic Reviews for The Kingdom of Dreams and Madness
Audience Reviews for The Kingdom of Dreams and Madness
½
The three men on the poster from right to left are Isao Takahata, Toshio Suzuki, and Hayao Miyazaki. Takahata and Miyazaki started working together as animators in the mid-70s on Heidi for Japanese television. In the mid-80s they formed Studio Ghibli together. Then at the tail end of the 80s Suzuki came on board as a producer working with one or both of these men as well as serving other studio projects. Along the way Miyazaki and Takahata had creative differences and split. In this documentary we see and hear that Takahata is still often on Miyazaki's mind even though they rarely speak to each other, except through Suzuki. It is fun to witness Studio Ghibli's (and in general Japan's) appreciation of nature and calisthenics. The documentarians follow Miyazaki with warmth through his daily routines at work and occasionally at home, discovering lots of humor and bits of wisdom. This doc captures the process of making The Wind Rises, which is deeply personal for Miyazaki as it is a little bit about his father and a little bit about himself. For Miyazaki writing doesn't involve scripting dialogue and scenes, but drawing the storyboards. Also directing calls for him to make sure his animation staff stays true to his vision as well as giving notes to the voice over actors. This movie suggests that, contrary to reports in America, Miyazaki does not plan to retire entirely, so the young and old may still have the chance to see the imaginative stories that are born out of Miyazaki's dreams and madness.
Byron Brubaker
Super Reviewer
Turns out Studio Ghibli is just an animation studio run by everyday people.
Marcus Woolcott
Super Reviewer
While the Future of Studio Ghibli hangs in limbo, Mami Sunada's Documentary is an eye opening film delving into the mind of the studio's founders Hayao Miyazaki and Isao Takahata on the verge of producing their last ever features. Its a fascinating look at the many different faces who have worked in the studio over the years and what they themselves have brought to it. Most of the time we get to hear what these certain individuals have learned over their years in the industry, as well as what mainly came out of their experience. Its also great to see how much of an impact Miyazaki's work has had on his life and towards modern generations. By the end of it, it seems apparent that Miyazaki wouldn't direct another film, although he could announce his next film next week. Purely recommended to the Studio Ghibli fans.
Luke Eberhardt
Super Reviewer
The Kingdom of Dreams and Madness Quotes
There are no approved quotes yet for this movie.