The King's Speech
(2010)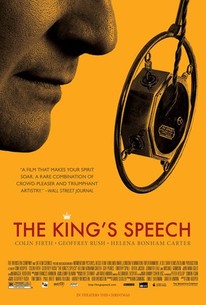 TOMATOMETER
AUDIENCE SCORE
Critic Consensus: Colin Firth gives a masterful performance in The King's Speech, a predictable but stylishly produced and rousing period drama.
Movie Info
After the death of his father King George V (Michael Gambon) and the scandalous abdication of King Edward VIII (Guy Pearce), Bertie (Colin Firth) who has suffered from a debilitating speech impediment all his life, is suddenly crowned King George VI of England. With his country on the brink of war and in desperate need of a leader, his wife, Elizabeth (Helena Bonham Carter), the future Queen Mother, arranges for her husband to see an eccentric speech therapist, Lionel Logue (Geoffrey Rush). After a rough start, the two delve into an unorthodox course of treatment and eventually form an unbreakable bond. With the support of Logue, his family, his government and Winston Churchill (Timothy Spall), the King will overcome his stammer and deliver a radio-address that inspires his people and unites them in battle. Based on the true story of King George VI, THE KING'S SPEECH follows the Royal Monarch's quest to find his voice. -- (C) Weinstein
News & Interviews for The King's Speech
Critic Reviews for The King's Speech
Audience Reviews for The King's Speech
A fascinating period drama that will probably please everyone (and find few detractors), with great dialogue and exquisite performances by Firth and Rush, who shine in their scenes together and sell us the natural relationship that grows between the two characters.
Carlos Magalhães
Super Reviewer
½
The Duke Of York hires an unconventional speech therapist when faced with Royal duties in the burgeoning media age to help him with a stammer that prevents his public speaking. The premise behind The King's Speech is a rather dry one and the trailers themselves make it seem to be a cross between The Madness Of King George and Pygmalion, but thanks to some winning performances and an interesting script portraying a behind the scenes window onto recent history it transcends the traditional comedy of manners formula that nearly all British films seem obliged to follow. Colin Firth's portrayal of a man thrust into the public eye by events beyond his control is sublime and it's fascinating to see a snapshot of the man behind a public face completely controlled by propriety and social convention. There's a real warmth in his unlikely friendship with a brewer's son from Australia and the gentle humour and subtle direction makes a very refreshing change from the ADHD firework displays that seem to make up the vast majority of modern cinema. Maybe not the masterpiece its multi-award winning reputation suggests, but a quality cast and sensitive storytelling make for a fine lightly comic and insightful historical character study.
The story of the stuttering king of England is a story of friendship. To behold how Geoffrey Rush slowly teaches Colin Firth to talk without fear and stutters while they are bonding, is a pleasure. Every scene between those two acting giants is pure gold. The rest of the cast is just as excellent. While the camera work is very unusual and odd at times, in the end it works in favor of the film, emphasizing the characters. The witty and smart screenplay takes a somewhat boring sounding premise and turns it into one of the most pleasing films of the year. Makes you happy.
The King's Speech Quotes
| | |
| --- | --- |
| Lionel Logue: | Do you know any jokes? |
| King George VI: | ...Timing isn't my strong suit. |
| | |
| --- | --- |
| George 'Bertie' VI: | For the second time in the lives of most of us we are at war. Over and over again we have tried to find a peaceful way out of the differences between ourselves and those who are now our enemies. But it has been in vain. We have been forced into a conflict. For we are called, with our allies, to meet the challenge of a principle which, if it were to prevail, would be fatal to any civilized order in the world. Such a principle, stripped of all disguise, is surely the mere primitive doctrine that might is right. For the sake of all that we ourselves hold dear, and of the world's order and peace, it is unthinkable that we should refuse to meet the challenge. It is to this high purpose that I now call my people at home and my peoples across the seas, who will make our cause their own. I ask them to stand calm and firm, and united in this time of trial. The task will be hard. There may be dark days ahead, and war can no longer be confined to the battlefield. But we can only do the right as we see the right and reverently commit our cause to God. |
| | |
| --- | --- |
| George 'Bertie' VI: | I'm not here to discuss personal matters. |
| Lionel Logue: | Why're you here then? |
| Lionel Logue: | Why are you here then? |
| George 'Bertie' VI: | Because I bloody well stammer! |