The Kiss Before the Mirror
(1933)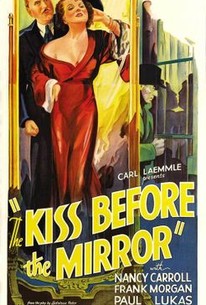 AUDIENCE SCORE
Critic Consensus: No consensus yet.
The Kiss Before the Mirror Photos
Movie Info
In this murder mystery, a criminal lawyer defends a man who murdered his wife in a jealous rage. Meanwhile the lawyer learns that his own wife has been having an affair.
Critic Reviews for The Kiss Before the Mirror
All Critics (3) | Fresh (3) | Rotten (0)
...an enjoyable picture full of James Whale touches ...
There is a pictorial quality about the opening scenes, and a maturity in the dialogue which make a better part of the picture seem true and important.
Plainly regressive...But it's also a dark tale of consuming jealousy...[and] it's got classy, subversively feminist comic relief.
Audience Reviews for The Kiss Before the Mirror
For my money, James Whale is one of the more underrated directors who ever lived. Known for (and in some circles, absurdly dismissed for) his stylish Universal horror films (Frankenstein, Bride of Frankenstein, The Old Dark House, The Invisible Man) Whale was also adept with more literary projects, such as Journey's End, By Candlelight, and this 1933 production of The Kiss Before The Mirror, which I would argue is just as good as Frankenstein. The film stars a pre-Wizard of Oz Frank Morgan as a prosecuting attorney haunted by the similarities between the case he's prosecuting -- that of a young man on trial for killing his unfaithful wife -- and his own feelings toward his spouse (Nancy Carroll). The film features Whale's trademark stylistic flair (distorted, expressionism influenced shots and fluid camera movement), and it also features a show-stopping 360-degree panning shot of a courtroom that would end of becoming one of his favorite tricks. Technical feats aside, The Kiss Before The Mirror is vintage noir at its finest -- morally ambiguous sexual politics being filtered through a story of deceit, with a heavy helping of murder. It should be noted that at a slim running time of 67 minutes, the film manages to pack in a lot with steady, sure-handed pace -- an excellent sign of direction. The gift-wrapped ending was a little too cutesey for my taste, but overall this a great film by an even greater director.
Jonathan Hutchings
Super Reviewer
"The Kiss Before the Mirror" starts with Lucy(Gloria Stuart) being murdered by her husband Walter Bernsdorf(Paul Lukas) as she is undressing for her lover(Walter Pidgeon). Walter's best friend Paul Held(Frank Morgan) takes his case, intending to get him off on a plea of temporary insanity. As Paul prepares his defense, he starts becoming suspicious of his own wife Maria(Nancy Carroll). "The Kiss Before the Mirror" is a sophisticated, witty and, at times, unbearably suspenseful movie. While it may seem to be about betrayal at first, on closer inspection, the subject turns out to be more about men who have taken their wives for granted, having long stopped paying attention to them which forces the women to look elsewhere for comfort. And on trial for his life, Walter is already in hell, wishing anything he could take back his violent act. (Originally reviewed in the blog section on 12/7/2009.)
The Kiss Before the Mirror Quotes
There are no approved quotes yet for this movie.