The Knack...And How to Get It
(1965)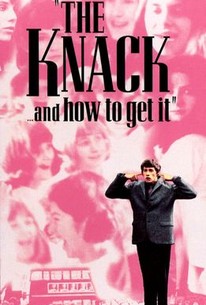 The Knack...And How to Get It Photos
Movie Info
Colin (Michael Crawford, who much later won a Tony Award for his role in Broadway's Phantom of the Opera) is an uptight schoolteacher whose housemate, Tolen (Ray Brooks) is a consummate womanizer. Colin imagines a long line of young women in tight white sweaters on his stairwell, waiting to get into Tolen's room. Jealous of Tolen's incredible success with the ladies, Colin asks Tolen for advice on how to get a girl. When Tolen's advice doesn't seem very practical, Colin decides that his first order of business is to get a bigger bed. Colin is also trying to find a third roommate to take a spare room. Tom (Donal Donnelly), who seems compelled to paint everything in sight, happens by the house, and inserts himself in the spare room without so much as saying "hello." Nancy (Rita Tushingham of A Taste of Honey) is new in town, and wanders the streets of London in a fruitless search for the YWCA. She runs into Colin and Tom at the dump, where they are procuring a gigantic bed. They offer her a ride, and proceed to race through London on the bed. Colin seems too shy to speak much to Nancy, despite Tom's encouragement. Eventually, the trio reach Colin's house, where Tolen works his gruff magic on Nancy, and havoc ensues. Capturing late 1960s London in black-and-white, Richard Lester's The Knack. . .and How to Get It was released between the director's two successes with the Beatles, A Hard Day's Night and Help. The script, by Charles Wood (An Awfully Big Adventure) is based on a play by Ann Jellicoe. Future stars Jacqueline Bisset, Charlotte Rampling, and Jane Birkin appear briefly amid all the attractive young women in the film.
Critic Reviews for The Knack...And How to Get It
Audience Reviews for The Knack...And How to Get It
½
Poor Michael Crawford needs help from his friend to get a girlfriend, at least he thinks he needs help. This movie is pretty funny most of the time, but it's not all that interesting, it's just entertaining.
½
Lively and extravagant sexual satire. Richard Lester's trademark blend of cinematic anarchism, surrealistic sketches and slap-stick comedy come perfectly in the backdrop of the swinging sixties London and its hedonistic inhabitants: mods and rockers coexisting with hostile hordes of middle-aged squares.
Pierluigi Puccini
Super Reviewer
A quirky film, full of fun and silliness "swinging 60's" style! It has a Benny Hill meets Austin Powers sort of feel to it. As a fan of Ms. Tushingham I'll admit that my feelings are a little biased, but she is definately the glue here. Though the rest of the cast does a fine job as well. We were surprised to see several "up and comings stars pop up through out, including several future cast memebers from The Vicar Of Dibley! A very young John Bluthal (Frank) and someone who looked and sounded like a very young Roger Lloyd-Pack (Owen) as one of the (uncredited ?) who heckled Rita from the windows as she passed. In any case it's a fun little jaunt if you like films that are more style then substance.
The Knack...And How to Get It Quotes
There are no approved quotes yet for this movie.