The Lady From Shanghai
(1948)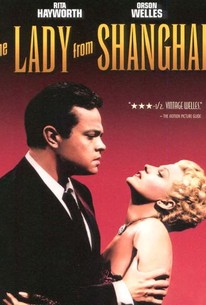 TOMATOMETER
AUDIENCE SCORE
Critic Consensus: Energetic and inventive, The Lady from Shanghai overcomes its script deficiencies with some of Orson Welles' brilliantly conceived set pieces.
The Lady From Shanghai Photos
Movie Info
After watching a rough cut of Orson Welles' The Lady From Shanghai, Columbia Pictures head Harry Cohn looked furtively around the projection room, and in an anguished voice begged "Somebody please tell me what this is about!" Cohn missed the point: in an Orson Welles film, it doesn't matter what it's about. You just sit back and wallow in his camera pyrotechnics and shadow-drenched imagery. Actually, the story, based on a novel by Sherwood King, makes perfect sense after two or three viewings. Welles plays an Irish-American sailor (with a brogue that wouldn't convince a cow) who rescues a beautiful blonde from muggers in Central Park. The blonde is portrayed by the otherwise redheaded Rita Hayworth, who under the direction of her ex-husband Welles delivers one of her most impressive performances. Orson and Rita meet again when Welles is hired as a crew member of the yacht owned by Rita's husband, the brilliant, crippled defense attorney Everett Sloane. As he falls deeper under Rita's spell, Welles gets involved in a bizarre insurance scam. Glenn Anders, Sloane's eccentric law partner, plans to stage his own death, collect the insurance, and skip town. All Welles has to do is pretend to murder Anders, and he'll get a big chunk of the money. As it turns out, Anders is murdered for real. The innocent Welles is defended in court by Sloane, who is famous for never losing a case, but who in this instance seems bound and determined to lose. As the jury files out, Welles makes a break for it. Rita catches up with him at a Chinese theatre, then stands by with a glazed expression on her face as she watches her cohorts drug Welles. As he comes to in an amusement park fun house, he begins to piece the plot together; he has been set up as a clay pigeon by Rita and Sloane. Only now, Rita intends to double-cross her husband. The plot comes to a literally smashing climax in the famous "hall of mirrors" sequence, with Rita and Sloane shooting it out amidst shards of shattering glass. No, it isn't the simplest thing in the world to follow Lady From Shanghai, but we wouldn't forego this bizarre cinematic jigsaw puzzle for anything.
Critic Reviews for The Lady From Shanghai
Audience Reviews for The Lady From Shanghai
Orson Welles stars in and directs this tale of sharks in the water, cannibalizing one another in a bloody frenzy. Actually, the sharks are human in nature and Michael (Welles) or "Black Irish" as he is also known, is stuck observing them in all their horrific glory. When Michael defends a beautiful blonde (Rita Hayworth) from being mugged in the park, she gets her wealthy husband, famed lawyer Arthur Bannister (Everett Sloane) to hire him to work on their yacht. While Bannister at first glance appears to be a bit of a milquetoast, as things progress, we see he's more conniving than he appears. "You're quite a tough guy" he says of Black Irish, who's pretty good with his fists, but as we find out, Bannister's bank role makes him a "tough guy" too. Things are very convenient for Michael on this yacht, the husband seemingly turns a blind eye to the flirtations of his wife with the new ships hand. When Bannister's partner arrives to join the vacationers, he propositions Michael with some sort of "foolproof" insurance scam that seems anything but. Director Orson Welles develops a taught little noir here, but it's nothing extraordinary to get worked up about. Everett Sloane gives a great performance, but the whole thing doesn't make a whole lot of sense.
Devon Bott
Super Reviewer
Even thoug hthis film came out several decades before it, I can't help but compare this movie to Fargo to an extent. This might be a more pure film noir than that one, but they both are very similar in their dealings with an average guy caught up in a scheme that can't possibly go in any direction but a bad one. They're both complex twisty turny mystery films made by great directors with great sense of style and visuals, but for me, as solid of a film as this is, I think that Fargo is my winner. This is still a top notch film though. It's not as legendary or brilliant as Citizen Kane or Touch of Evil, but this is definitely the bronze medal winner among those two, and, considering those two films, being in 3rd isn't too shabby at all. Michael O'Hara is a guy with a tainted background and has experience with nautical related thigns, He goes to work for a guy and his wife, and, not only does he fall for the lady, he gets caught up in a shady murder plot involving the husband. Plot twists abound, and this was easier to follow than most similar type of films, but I feel like the script could have been more clear and polished. And, being Welles, this film looks fantastic and has some brilliant images and cinematography, with the absolute highlight being the surreal climactic shooutout in a hall of mirrors maze at an amusement park. That sequence alone is the main elling point for why this movie should be seen. However, for the scene to have the most impact you do need to watch the rest of it. Doing that last bit isn't a problem, but if you've seen Welles before ,you know that you really have to be in the right mindset to enjoy his work, since he, like LKubrick, was one of those brilliant, but very polarizing filmmakers who might have been perhaps a bit too headtrong in their vision. The performances are fine though, and it cracks me up that this film caused controversy since Welles convinced Rita Hayworth to not only cut her fiery red hair short, but to dye it blonde as well. All in all, a decent, though not perfect film noir mystery thriller.
Chris Weber
Super Reviewer
.This is an excellent Orson Wells film with a beautiful Rita Hayworth, actress of the by gone era will never be matched by the female movie starts of today. They are just candles in the wind. This movie has so many twist and turns which will keep you guessing throughout the film, Orson plays the rich mans aid who falls in love with the rich mans wife, is she in love with him or leading him to a death trap, only you watching the film will the answer be found. Nothing short of 5 stars. 4-5-12
Bruce Bruce
Super Reviewer
The Lady From Shanghai Quotes
| | |
| --- | --- |
| Michael O'Hara: | "One who follows his nature, keeps his original nature in the end." |
| Michael O'Hara: | One who follows his nature, keeps his original nature in the end. |