The Last Days (Los Últimos Días)
(2014)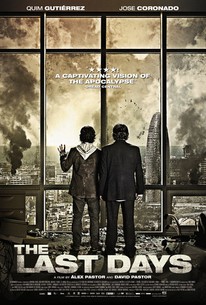 The Last Days (Los Últimos Días) Photos
Movie Info
2013. A mysterious epidemic spreads across the planet. Humanity develops an irrational fear of open spaces that causes instant death. Soon, the world population is trapped inside buildings. As Barcelona descends into chaos, Marc sets off on a quest to find Julia, his missing girlfriend, without ever going outside.
Critic Reviews for The Last Days (Los Últimos Días)
Audience Reviews for The Last Days (Los Últimos Días)
½
This is a good movie until the last 5 or so minutes of the film. I'll get to that later, because I REALLY hated them. With that said, while not exactly the most inventive post-apocalyptic story, it's certainly a solid one nonetheless with a pretty damn good cast all things considered and a decent story that really only falters in the last act. The friendship between Enrique and Marc is certainly a little cliched, Enrique, who worked in human resources, was about to fire Marc for not rushing out an unfinished product. The friendship that develops as they find themselves traversing this world in search of their loved ones is, again, cliched, but I think it works thanks to the acting of the two leads. You come to like both characters, mostly Enrique as he was the one who really had the personality out of the two main characters. Still the actors' chemistry made this pairing work. They were funny together when they needed to be, but they were also convincing when they needed to be serious. However, you do see what's coming almost from a mile away, at least as it relates to Enrique and where he's gonna end up, so I do think that takes something away from the its potental effectiveness. The story pretty simple to follow, Marc is on the search to find his pregnant girlfriend, he must do so traversing underground sewers, or staying inside buildings, as the virus that plagues this world doesn't allow anyone to go out into the open without dying. On the way Marc and Enrique find themselves into situations with various groups fighting for power among their fragmented society. This was all to be expected, but I think the film handles these moments fairly nicely with good pacing. And this leads us to the ending, which is almost as bad as the '19 years later' horseshit from the last Harry Potter book. Long story short, Marc finds his way to his pregnant wife, or girlfriend, I'm not even sure. This would've been a good place to end the film, it's certainly bittersweet because yes, Marc found his way to the love of his life, but the world is still such that you don't know how much longer they'll be able to survive this way. Their future is uncertain in this world. Much like in the last Harry Potter book, then ending should've been all Hermione, Harry, and Ron holding hands and standing at the edge of an almost destroyed Hogwarts, their future uncertain. Their battle is over, but their future is in question. Same thing here. Except, instead of ending this movie with Marc's and Julia's reunion, they decide to show you, in about 5 minutes or so, their baby being born, growing up, and finally as a teenager as he prepares to leave his home with other teens to a pilgrimage or something, I don't know. Basically, for one reason or another, the kids that are being born post-virus are immune to it and they can actually venture outside without suffering any ill effects. The message is OBVIOUS, that, hopefully, this next generation will inherit a better world. It could've have been more obvious but it's done in such a cloying fashion, that it was just an absolutely terrible ending to me. And the fact that they did all of this character progression in 5 minutes is also pretty ridiculous. And why are these kids immune to the virus? There's no explanation, you're just supposed to take it at face value. It just feels incredibly cheap. The way the story was set up, it was set up for Marc to make his way to his loved ones. Once you got to that point, there was nothing else you needed to do. This ending didn't NEED to exist, but they forced it in there in as unsatisfying a manner as is possible. If you wanted to really show this then just make the first half Marc's journey to Julia and the second half would be seeing as the child grew up, and maybe getting to see how or why they figured out that the newborns are immune to the virus. They didn't choose to do it that way, unfortunately. It was unwanted. I can't imagine anyone REALLY being satisfied with this ending once they really think about it. It's just incredibly ridiculous and absurd to buy into. Not to mention the sentimentality in the ending is absolutely fucking disgusting. Particularly for a post-apocalyptic film. I get that they're selling 'hope' but you had all the hope you needed when Marc finally reached Julia. That is ALL you needed, not all this additional bullshit that really makes no sense in the long run. I REALLY hated this ending and I'm not sure whether to downgrade this film to 2.5. You know what, I will. The ending, to me at least, is really that bad. It takes a good movie and makes it worse. And they had a good cast and some decent writing, so there's no way this film shouldn't have been at least good. They had to fuck it up with the terrible ending though. This is a good movie if, and only if, you shut it off after Marc finally reunites with Julia.
Jesse Ortega
Super Reviewer
The Last Days (Los Últimos Días) Quotes
There are no approved quotes yet for this movie.