The Last Dragon
(1985)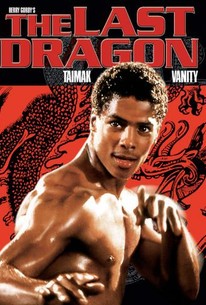 TOMATOMETER
AUDIENCE SCORE
Critic Consensus: The Last Dragon is a flamboyant genre mashup brimming with style, romance, and an infectious fondness for kung fu, but audiences may find the tonal whiplash more goofy than endearing.
Movie Info
The TV prints of this entertaining melange whittled down the film's original self-serving title (Motown king Berry Gordy was the producer), and settled on merely The Last Dragon. Taimak stars as an African American martial-arts whiz, so devoted to his hobby that he dresses and behaves in what he thinks is true Chinese fashion. Taimak falls in love with sexy veejay Vanity. Gangsters intrude on both their lives when crook Julius J. Carry III tries to promote his talentless protegee into rock stardom.
News & Interviews for The Last Dragon
Critic Reviews for The Last Dragon
Audience Reviews for The Last Dragon
I remember seeing this movie when it first came out in theatres some 30 years ago,and it is enjoyable today as it was when it came out back in 1985. But in perspective,if you asked any young teenager or any younger person over the age of 30 if they remember seeing Berry Gordy's "The Last Dragon" in the cinema they probably will unless they have vague memories of it when they were kids,not to mention going to see the movie first,and then hustle over to the nearby record shop to buy the motion picture soundtrack to this film. Produced by the great Berry Gordy(the head CEO and founder of Motown Records who also produced the movies "Lady Sings The Blues","Mahogany","Bingo Long Traveling All Stars and Motor Kings",and not to mention he was responsible for bringing "The Wiz" to the big screen)this crazy amalgam of of spectacular martial arts,1980's-era blaxploitation which was during the height of hip-hop's golden era of music and musical moments was supervised by Gordy himself and directed by the trailblazing black filmmaker Michael Schultz(who directed "Cooley High",and "Car Wash")made this movie for the audiences in mind. It was practically the equivalent of two martial arts films---1973's "Enter The Dragon",and 1974's "Black Belt Jones" with references to 1974's "Three The Hard Way" and 1975's "The Street Fighter",not to mention taking a cue from 1984's "The Karate Kid" particularly those who grew up in the golden age of MTV and BET.

"The Last Dragon" starred Taimak(who makes his theatrical debut) as Bruce "Leroy" Green, a Bruce Lee-not to mention Jim Kelly idolizing young martial arts student who does battle with an arrogant karate master named Sho' Nuff(ridiculously played by the late Julius J. Carry III)when he is not saving a Lady VJ(Denise Matthews-aka former Prince protege Vanity)from impending peril where all the action takes in Harlem. Yeah,its a nutty movie if you think about it where it is mostly high flying action sequences that basically saves this film. "The Last Dragon" makes the film debut of Ernie Reyes, Jr.(Tai),and it also marked the film debut of two actors who were making television history and would go on to better and better things in their professional careers....Keisha Knight-Pulliam (little Rudy Huxtable of "The Cosby Show")plays Leroy's younger sister Sophie,and Carl Anthony Payne,II (also of "The Cosby Show" fame and later on for "Martin")plays one of the neighborhood kids. Veteran actors William H. Macy and Chazz Palminteri are in this too as well as Leo O'Brien(who plays Leroy's younger brother)who in real life was the younger brother of Guy O'Brien,better known to hip-hop fans out there as "Master Gee" from the Sugarhill Gang. While the movie became a mixed bag at the boxoffice,the motion picture soundtrack to this movie became a huge seller that featured music from such Motown stars as Stevie Wonder, Willie Hutch, Smokey Robinson, and Rick James which included DeBarge,who sing their peppy Diane Warren-written hit "Rhythm Of The Night",that went straight to Number One on Billboard's Hot 100 R&B,that lasted a record on the Billboard charts for an impressive 16 weeks!
"The Last Dragon" was an instant transport back to the days of that fantastic and weird era that was the 1980's.
Mister Caple
Super Reviewer
Just watched this movie for the first time since I was a kid almost 20 years ago and I have to say what a great little movie it is. There is action from the beginning and whilst this will never win any prizes for originality it will keep most lovers of this genre entertained. And yes the dialect is quite cheesy at times but this goes well with the directors decision to add some comedy into the mix. I found the movie "baddie" to be more annoying than actually threatening and I had to laugh at his typically 80s shoulder pads!! This is one of those movies where no concentration is required to follow the plot so just switch your brain off, invite a few friends over and enjoy 100 minutes of Kung Fu, Shaft Style!!
Cassandra Maples
Super Reviewer
½
Sho nuff! Gloriously cheesy and fun.
The Last Dragon Quotes
| | |
| --- | --- |
| Sho' Nuff: | Kiss my Converse |
| Sho' Nuff: | Kiss my Converse. |
| | |
| --- | --- |
| Laura Charles: | You sure look like a master to me… |
| | |
| --- | --- |
| Leroy: | Could you teach me some moves! |
| | |
| --- | --- |
| Sho' Nuff: | Who's the master? |