The Last Exorcism Part II
(2013)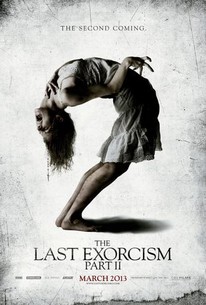 TOMATOMETER
AUDIENCE SCORE
Critic Consensus: The Last Exorcism Part II ditches the found footage format for relatively earnest but deadly tedious psychological terror that devolves into hokum anyways.
The Last Exorcism Part II Photos
Movie Info
Continuing where the first film left off, Nell Sweetzer (Ashley Bell) is found terrified and alone in rural Louisiana. Back in the relative safety of New Orleans, Nell realizes that she can't remember entire portions of the previous months only that she is the last surviving member of her family. Just as Nell begins the difficult process of starting a new life, the evil force that once possessed her is back with other, unimaginably horrific plans that mean her last exorcism was just the beginning. (c) CBS Films
News & Interviews for The Last Exorcism Part II
Critic Reviews for The Last Exorcism Part II
Audience Reviews for The Last Exorcism Part II
Despite the deliberate pacing that helps build tension, here is another sequel (to a good horror movie) that drops the subjective camera for no reason along with its main reason to exist - and it is hard not to be infuriated by its stupid, inconclusive ending.
Carlos Magalhães
Super Reviewer
* This sequel is a complete waste of time. It picks up with Nell at a safe house in New Orleans, and the demon comes back for her. It isn't in POV like the first movie, and honestly doesn't have any real scary/creepy moments too it. Hell, they don't really address much of anything from the events of the first movie. It as is someone said "make a sequel!" so they rushed it and didn't put any creativity into it. The said "we'll just have Nell movie and forget everyone else." By the end, it isn't shocking or anything, your just ready for it to be over. Kind of boring, and after re-watching the first one, I thought they could have done so much more with it than what they did. They did leave it open for a third, but really, who would want to see it after this? Skip it, and just stick to the first one.
Everett Johnson
Super Reviewer
Sequel to The Last Exorcism is a predictable affair that could have been much better than what it turned out to be. I really wanted to enjoy this, but I felt that the film relied on recycled ideas to create its terror. The horror itself is never really terrifying, only a bit unnerving and the filmmakers really could have done something truly special here. Unfortunately the movie suffers from a dull script and performance that just aren't interesting. This sequel just fails at delivering genuine chills and you end up wanting more out of the film. As it is, this is yet another clichéd horror film that doesn't cover new ground. With that being said, if they were going to make a sequel to the Last Exorcism, they should have put more effort into it because the original was truly an interesting horror film. The Last Exorcism 2 is just a bland horror movie that doesn't shock the way it's supposed to. The film is predictable and we know when everything will happen. This is a poor attempt at cashing in on the original, and they really should have made something better. The Last Exorcism 2 is just another bad horror movie that has been released this year and one that isn't worth your time. Stick with the original, it is a far superior film than this film, and this follow-up relies on old ideas that we've seen many times before. As a genre film, it simply doesn't deliver anything worthwhile for fans of Exorcism films, and it is a failed attempt at crafting a movie that should have been much better than what it turned out to be.
The Last Exorcism Part II Quotes