The Last Laugh (Der Letzte Mann)
(1925)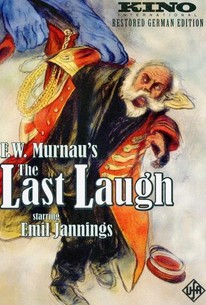 The Last Laugh (Der Letzte Mann) Photos
Movie Info
F.W. Murnau's German silent classic The Last Laugh (Der Letze Mann) stars Emil Jannings as the doorman of a posh Berlin hotel. Fiercely proud of his job, Jannings comports himself like a general in his resplendent costume, and is treated like royalty by his friends and neighbors. The hotel's insensitive new manager, noting that Jannings seems winded after carrying several heavy pieces of luggage for a patron, decides that the old man is no longer up to his job. The manager demotes Jannings to men's washroom attendant, and the effect is disastrous on the man's prestige and self-esteem. Logically, the film should end on a note of tragedy, but Murnau (either because he was ordered to by the producers or because he just felt like it) adds a near-surrealistic coda, wherein Jannings, having suddenly inherited a fortune, returns to the hotel in triumph. The Last Laugh was a bold experiment for its time: a film told entirely visually, with no subtitles save for the semi-satirical explanation of the climax. In a sense, Karl Freund's camera is as much a "character" as anyone else, commenting upon Jannings' rise and fall via then-revolutionary camera angles, jarring movements and grotesque lens distortions. Many historians credit The Last Laugh as the vanguard of the "German invasion" of Hollywood during the mid- to late-1920s. ~ Hal Erickson, Rovi
Critic Reviews for The Last Laugh (Der Letzte Mann)
Audience Reviews for The Last Laugh (Der Letzte Mann)
a groundbreaking film in nearly every possible way and one of the finest achievements of the silent era. it's broadly played but flows beautifully and contains only one title card! magnificent!
Stella Dallas
Super Reviewer
½
Great lighting and high contrast German silent film. It's a nice slice of life in 1924 Berlin. The famous director F.W. Murnau evokes many emotions. It's a work of art to look at. It feels really long and is sad. I felt sorry for the old walrus-moustached hotel doorman who lost his proud position.
Lafe Fredbjornson
Super Reviewer
½
A brilliant movie with great actors, director, and story. A classic.
The Last Laugh (Der Letzte Mann) Quotes
There are no approved quotes yet for this movie.