The Last Shot
(2004)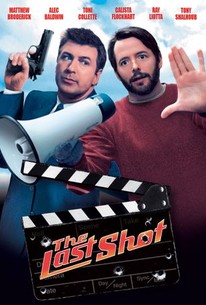 Movie Info
Directed by Jeff Nathanson, The Last Shot follows what happens when, like so many aspiring entertainers, the FBI gets caught up in the grandeur of showbiz. When Agent Joe Devine (Alec Baldwin) is given a key role in an elaborate scheme to take down the infamous mob boss John Gotti, he gladly accepts the assignment and goes undercover as a Hollywood producer. Before long, he has assembled an unwitting cast, including aspiring director Steven Schatz (Matthew Broderick), who agrees to direct for Devine without realizing the entire production is merely a front for the investigation. As Agent Devine and several of his cohorts from the bureau begin enjoying their lives as self-appointed industry players, however, justice takes a backseat as the would-be law-enforcement operatives put all of the passion into turning what began as a sham movie project into a true Hollywood contender.
News & Interviews for The Last Shot
Critic Reviews for The Last Shot
Audience Reviews for The Last Shot
Based on a true story, The Last Shot is a fun, satirical comedy that's full of laughs. In an attempt to bring down a mob boss the FBI sets up an elaborate sting operation posing as movie producers, but before long the fake movie they're making starts to take on a life of its own. The writing is pretty good and includes some interesting commentary about Hollywood and the tactics used by the FBI. Matthew Broderick, Alec Baldwin, Tony Shalhoub, and Calista Flockhart lead the cast and deliver some impressive performances. But, the character development is weak and there are some extraneous subplots that don't payoff. Yet, The Last Shot overcomes its script issues and delivers an entertaining film that tells an unusual tale of life and art blurring together.
Dann Michalski
Super Reviewer
the one joke premise becomes terribly boring after a while. the film promises a lot with the cast of interesting actors but sadly they can't save this one.
Brendan O'Connor
Super Reviewer
Joe Devine: Have you actually seen a person die, watched them bleed to death, seen them take their last breath? I've seen that... many times. Steven Schats: Why have you seen that? Joe Devine: ... I used to produce music videos. Said to be based on a true story, this is a very funny movie about an FBI agent setting up an elaborate sting operation to catch a mobster, by using a wide eyed, wannabe filmmaker and coaxing him into making a movie. Mathew Broderick and Alec Baldwin head a surprisingly large cast for a small indie-movie, including Ray Liota, Toni Collette, Tim Black Nelson, Tony Shalhoub, and Calista Flockheart, and they are all great. Plus, Joan Cusack shows up for a few minutes of just pure hilarity. Lots of funny jokes about Hollywood and the hilarious elaborate setup to get this movie made, which goes on and on to become more of a possibility that the FBI might pursue. It becomes funnier for the con that Baldwin puts Broderick through, such as telling him that his movie, titled Arizona, should be shot in Rhode Island. Then you have the zany performances from Shaloub as a mobster: Tommy Sanz: It's my face, Willie. The guys back home can't stand to look at me. I thought after the second surgery things would change. Willie Gratzo: Did you talk to that plastic surgeon? Tommy Sanz: He said he wanted to take skin from my ass cheeks and put it on my face. I beat that cocksucker with his own chair. And Collette as a has-been actress: Emily French: After my nomination, I just... freaked out. Turned everything down that they sent. Then I had a late-term abortion, went into deep depression, got really into coke, moved to Florida for a year and made a bunch of B-movies for my Eurotrash boyfriend, who wrote and directed and made sure I got my tits out in every other scene. The truth is, I was blackballed in Hollywood, because the great Jed Walker claimed that the baby was his, that I had murdered his baby in the fifth month, which, if you had seen it, it clearly was not. This movie was written and directed by Jeff Nathanson, responsible for screen writing duties on several Spielberg movies. He only managed to put this movie onto a few screens before it left theaters, basically meaning that this is a low profile movie, which should be seen more. Its very funny and filled with great talent. Joe Devine: At this time, I would like to introduce Fanny Nash, the producer of the hit comedy "No Means No" to discuss proper Hollywood protocol. Fanny Nash: I am over 35 years old. I am physically unable to bear children. And I pay alimony to my ex-husband, who is a faggot. Yet I am willing to bet that all of you would fuck me over that desk right now if you knew you'd be having lunch with Harrison Ford as soon as you blew your wad. If you wanna carry yourself like you're in the movie business, you need to act like the big dog, Clifford, and remember that everyone in the entire world is desperate to play with your big red balls.
Aaron Neuwirth
Super Reviewer
The Last Shot Quotes
| | |
| --- | --- |
| Steven Schats: | Second acts are tough. |
| | |
| --- | --- |
| Agent Joe Devine: | No matter who they are people are basically afraid of the unknown. |
| | |
| --- | --- |
| Marshal Paris: | You can't fool Hollywood. They can smell a fake a mile away. |
| | |
| --- | --- |
| Emily French: | In a moment, I'm going to die. I wish I could live to see that. |