The Last Starfighter
(1984)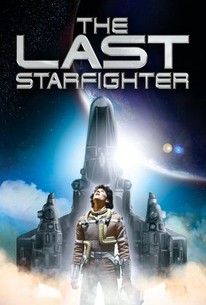 The Last Starfighter Videos
The Last Starfighter Photos
Movie Info
Trailer-park teenager Lance Guest regularly escapes from his humdrum existence by playing the video game Starfighter. His expertise at this recreational endeavor attracts the attention of affable stranger Robert Preston. Before he knows what's happening, Guest is whisked by Preston into the outer reaches of the galaxy! It turns out that the Starfighter game is being played in deadly earnest in outer space, and that Guest is expected to join Preston's Star League, then do battle with the wicked Kodan forces. Guest's principal ally is the lizardlike Grig (Dan O'Herlihy--and we didn't recognize him either). His great rival is the traitorous Xur (Norman Snow). The contrast between Guest's earthbound life as the son of single-mother Barbara Bosson and his new position as Starfighter is daunting at first, but soon the boy is manning a spacecraft and zapping the baddies as though he's been doing it all his life. The Last Starfighter was clearly designed with "sequel" in mind: giveaways include the resurrection of a "dead" character and the surprisingly casual escape of the villain. While the film didn't stir up enough business to warrant a sequel, the Starfighter video game remained a much-sought-after commodity by joystick-happy "warriors" all over the country. ~ Hal Erickson, Rovi
News & Interviews for The Last Starfighter
Critic Reviews for The Last Starfighter
Audience Reviews for The Last Starfighter
The Last Star Fighter is an entertaining Sci Fi action adventure that I quite enjoyed. Although not perfect, the film is very entertaining from start to finish. Many critics have said that this is similar to Star Wars, and I can see why, but there is still plenty of originality to the film to make it a memorable viewing experience. Though not perfect, The Last Star Fighter is still a film with plenty of charm, and nostalgia value, and for that it works very well. Director Nick Castle crafts a Sci Fi adventure with heart, and the cast do a great job in their performances to really make this an amusing ride. Although not as great as others in the genre, this is a film worth seeing if you're a fan of Sci Fi. The film's flaws are that it does look a bit dated by today's standards, but if you grew up watching it, you won't mind that much. Some areas could have been improved upon as well, and I felt that this film could have been great, instead it's a film that's good, but never realizes its potential. Overall, the film is entertaining and it is a film that manages to work around its shortcomings to create something memorable. The cast keep you engaged and there are some impressive effects that are a highlight of the picture. I found this one to be much better than what I thought it was going to be. If you're looking for a good Sci Fi film, then give this one a shot, you may be surprised by how good this one is.
Despite the obvious Star Wars overtones/wholesale rip-offs, this is a fun film with some great scenes. Full review later.
Thomas Bowler
Super Reviewer
Even for a sci-fi movie the story is really out there, and not in a good way. This movie is corny and predictable. I didn't care for it.
The Last Starfighter Quotes
| | |
| --- | --- |
| Lord Kril: | Forget the guns. Ramming speed! |
| | |
| --- | --- |
| Alex Rogan: | Hold it! There's no fleet? No Starfighters, no plan? One ship, you, me, and that's it? |
| Grig: | Exactly! Xur thinks you're still on Earth. Classic military strategy, surprise attack. |
| Alex Rogan: | It'll be a slaughter! |
| Grig: | That's the spirit! |
| Alex Rogan: | No, *my* slaughter! |
| | |
| --- | --- |
| Alex Rogan: | [to an alien] Sorry, I didn't mean to step on your, uh, whatever that is. |
| | |
| --- | --- |
| Grig: | Up to your old "Excalibur" tricks again, eh, Centauri? |
| Grig: | Up to your old 'Excalibur' tricks again, eh, Centauri? |