The Last Waltz
(1978)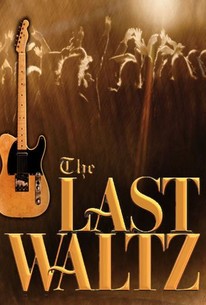 TOMATOMETER
AUDIENCE SCORE
Critic Consensus: Among one of, if not the best rock movie ever made, The Last Waltz is a revealing, electrifying view of the classic band at their height.
Movie Info
Martin Scorsese chronicles the most legendary night in rock history, as an unparalleled lineup of rock superstars -- including Bob Dylan, Eric Clapton, Neil Young, Joni Mitchell and Van Morrison -- take the stage for "The Band's" 1976 farewell concert.
News & Interviews for The Last Waltz
Critic Reviews for The Last Waltz
Audience Reviews for The Last Waltz
Just saw this on the big screen for the first time in 2013. What an amazing lot of talent on one stage at one time. I saw it as a series at a local art house and there was a film professor from Local U pontificating before the film about how this movie made him hate Martin Scorsese--said he was a big egomaniac--so I was interested to see what that was all about and all I can say is I'm glad I didn't become a film major if all film profs are such jackasses. Scorsese was basically invisible--he was just the guy the Band members were talking to, in fact he seemed a little nervous--the cinematography was beautiful and the music was out of this world. I had never heard Joni Mitchell sing Coyote. Wow. It was a real story, too, about why the band was breaking up after 16 years on the road. Probably the best documentary about a band I've seen.
Bathsheba Monk
Super Reviewer
Thursday November 25th, 1976: Thanksgiving Day. On that night, one of the most momentous events in music history took place. For on that night, The Band decided to call it a day as a group and have a farewell concert at the Winterland in San Francisco to mark the occasion. They brought along with them some of their friends, influences, and collaborators. Martin Scorsese was brought along to document the occasion. This film, released two years later is the result. Well, not to diminish the impact, but it's only part of the result. All in all, the full uncut concert was five hours long. Man, I'd kill to see all of it. Too bad I'll probably never get the chance. Anyway, let's get on with it shall we. The guests musicians who all show up for varying lengths to jam include, among others: Joni Mitchell, Bob Dylan, Neil Diamond, Van Morrison, Dr. John, Neil Young, and Eric Clapton. Even poets like Michael McClure and Lawrence Ferlinghetti show up to perform. I think it's pretty fair and obvious to say that obviously Robbie and Co. were familiar with the phrase "if you're gonna go out, go out with a bang". Not only is this an epic and brilliant concert, it's just a wonderful celebration of an interesting period of music during an even more interesting time for both music and society. The mid 70s were a curious time, and this film really helps capture the essence. All of these people onstage love msuic, but you can just tell they're all weary and burnt out, and in need of revitilization. If you only jsut listen to this great music, you can't tell it, but seeing it being performed, you can just tell that there's a lot of pain, frustration, and bitterness going on.Interspersed between the footage are typical interview/documentary type footage with help provide further insight into the msuic, the people, and the times, and it too, like the stage stuff, though great, is very bittersweet. You'd think that because I am a huge fan of Scorsese, a fan of 60s and 70s rock music (thus a fan of most people that are featured here), and have both a scholarly and general interest in the 70s that I probably would have already seen this movie lke 100 times by now. Surprisingly no. For whatever reason, I didn't get around to this until now. Obviously I'm happy I finally did it, but still, I can't help but feel like I'm less complete for having waited so long. Don't be like me and make that mistake. Go out and see this film as soon as you can. It's got great music, is fascinating to watch, and is shot and directed superbly. It easily earns all the acclaim it gets about being one of (if not the) finest concert film ever made.
Chris Weber
Super Reviewer
A great document of a great band.
Graham Jones
Super Reviewer
The Last Waltz Quotes
| | |
| --- | --- |
| Himself: | Neil Diamond - You'll have a tough time following that. |
| Neil Diamond: | You'll have a tough time following that. |
| Himself: | Bob Dylan - What do I have to do, fall asleep? |
| Bob Dylan: | What do I have to do, fall asleep? |