The League of Gentlemen
(1959)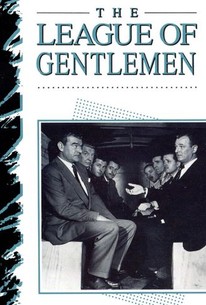 The League of Gentlemen Photos
Movie Info
An engrossing suspenser with dashes of comedy, League of Gentlemen is about a daring group of highly trained army men, turned bank robbers. When Hyde (Jack Hawkins) is drummed out of the army after years of devoted service, he decides to get back at society in general. One by one, he finds seven other army officers who are now broke and who walk on the shady side of the law. All eight men go into hiding as they plan the robbery with the care and attention of a behind-the-lines reconnaissance mission. As they undertake tasks like raiding a military depot for explosives and similar stunts, suspense and incidental humor increase, leading up to bank day when the really big show has to be pulled off without a hitch.
Critic Reviews for The League of Gentlemen
Audience Reviews for The League of Gentlemen
A decent British caper movie that lacks humour but has a sterling cast that you really hope gets away with it. Lots of great British character actors and the type of 'stiff upper lip' that you can't get away with these days. The opening image of Hawkins climbing out of a drain in a tux was surely nicked for 'Goldfinger'!
David Sayers
Super Reviewer
½
"The League of Gentlemen" starts with Hyde(Jack Hawkins) climbing out of the sewer wearing a tuxedo. Next, he sends halves of 50 pound notes and a paperback to seven disgraced army veterans as an invitation to lunch. His idea is to use the plot of the novel, along with their military expertise, to rob a bank. At first, they are skeptical but eventually warm to the idea, with Race(Nigel Patrick) being appointed second in command. As smoothly entertaining as it is, "The League of Gentlemen" is more thoughtful than an average caper movie. While it does share a similar idea with the original "Ocean's Eleven," which came out the same year, about a group of military veterans pulling off a heist, "The League of Gentlemen" forges its own path by also showing how badly its characters have adjusted back to civilian life.(Hyde's masterminding might have been a preemptive strike against any future failure as much as anything else.) For example, the men are mostly revealed in the introductory sequences to have problems in their relationships with women. In any case, maybe it is not fair to guess about Hyde's and Race's sleeping arrangements. On the other hand, this was a less enlightened time, as displayed by Oliver Reed's flamboyant bit part.
What a great and fun and also very stylish heist film that is filled with great performances, adventure and dashes of comedy. The film is about a former Colonel named Hyde (Jack Hawkins) who recruits seven other former army officers whom are all the best in their respected fields of operations. He has been formulating a plan on robbing a bank and each man who joins him will receive 100,000 pounds for their services. Every detail is methodically thought out and planned for, or is it? The film is a fun and entertaining watch and while all the remakes of it are quite dreadful, the original here is a blast to watch!
Chris Browning
Super Reviewer
The League of Gentlemen Quotes
There are no approved quotes yet for this movie.