The Leather Boys
(1964)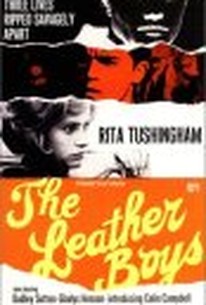 Movie Info
Dot (Rita Tushingham) is a girl who marries motorcycle maven Reggie (Colin Campbell) to escape her parents' influence. The marriage gets off to a rocky start and completely slides downhill after the honeymoon is plagued by bad weather. Dot refuses to have anything to do with household responsibilities and cooks only canned beans. Reggie loses interest in sex with Dot because of her actions, and after moving in with his grandmother, he begins to hang around Pete (Dudley Sutton). The two friends ride their motorcycles and begin to spend even more time together, and eventually Reggie realizes that Pete is a homosexual. Dot tells Reggie she is pregnant in an attempt to get him back -- with no result, but when Reggie comes home to find his wife in bed with another man, he decides to go off to sea with Pete. Pete leaves Reggie shaken and alone when he goes off with a group of sailors out to satisfy their same-sex lust. The film was controversial at the time of its initial release. ~ Dan Pavlides, Rovi
Critic Reviews for The Leather Boys
Audience Reviews for The Leather Boys
A classic kitchen sink drama, though not as well known as similar films of the period. The Leather Boys tells the story of two people who marry too young, and discoverer they don't really know each other. As the couple begin to drift apart, Reggie turns to his pal and begins to find out who he really is. Features great acting from the 3 leads (Campbell, Tushingham and Sutton), and was ahead of it's time due to the fact it features homosexuality. Overall if you like films from this period this is a must see.
The Leather Boys Quotes
There are no approved quotes yet for this movie.