The Ledge
(2011)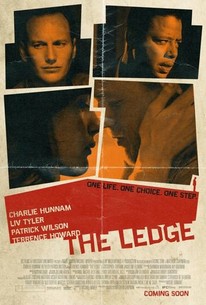 Movie Info
One step can change a life forever in The Ledge, a sexy and suspenseful thriller, starring Charlie Hunnam, Liv Tyler, Patrick Wilson and Terrence Howard. After embarking on a passionate affair with his evangelical neighbor's wife (Tyler), Gavin (Sons of Anarchy's Hunnam) soon finds himself in a battle of wills that will have life or death consequences. As a nonbeliever, Gavin is lured by her lover's husband (Insidious's Wilson) to the ledge of a high rise and told he has one hour to make a choice between his life or the one he loves. Without faith in an afterlife, will he be able to make a decision? It's up to police officer Hollis (Howard) to save both their lives, but the clock is ticking in this edge-of-your-seat film that will leave you gasping until the final frame. -- (C) IFC Films
News & Interviews for The Ledge
Critic Reviews for The Ledge
Audience Reviews for The Ledge
This is one of those films that has had the some fairly negative press, but it isn't as bad as it might seem. The idea here is quite good, but due to the fact that it mixes multiple genres and it's a film that doesn't know what it really tries to be. It's not a bad idea, but the film feels rushed in its ideas, and it doesn't try to elaborate in what it presents us in the film's story. The film presents good ideas as well, but it never really explores in depth what it suggests, and it's disappointing because if the ideas really would have been better developed, The Ledge would really have been a great film. This is a good affair, but it could have been so much more as well. The cast is quite impressive, and there are some good performances here as well. The Ledge isn't a perfect film, but it manages to be entertaining for what it tries to do. If the script would have been reworked slightly with some of its ideas better developed, then I think that the film would really have been a great affair. Though not perfect, The Ledge doesn't deserve the flack it has received, it's a film that manages to have good ideas in its plot that make for a good viewing experience. But since they are a bit underdeveloped, you simply are left wanting more out of the film. The film does have some tense moments, and has an interesting idea on faith, which is something we rarely see in films, and it pulls it off nicely.
½
I love, Charlie Hunnam. I am a big fan of his acting and looks. ;} But this movie just didn't do it for me. The story wasn't twisted or mysterious enough for me. Plus the ending sucked. I was hoping for a different outcome. The characters weren't that interesting and lacked depth. I couldn't bring myself to care for them and for what happened to them. Terrence Howard's acting is something I still find hard to like. I don't know what it is about the guy, but he just doesn't do it for me. It was a decent film, but if not for Charlie I wouldn't have rated it what I did or even given the movie a chance considering the plot of the film. If you choose to pass you wouldn't be missing anything.
♥˩ƳИИ ƜѲѲƉƧ♥
Super Reviewer
Looked like a good cast but it was really slow going. I couldn't get into it.
Candy Rose
Super Reviewer
The Ledge Quotes
| | |
| --- | --- |
| Gavin: | Note to self: decline blowjob if offerred. |
| | |
| --- | --- |
| Gavin Nichols: | It's always inexplicable why you fall in love. Isn't it? |
| | |
| --- | --- |
| Gavin: | love the sinner but hate the sin |
| Gavin: | Love the sinner but hate the sin. |