The Left Handed Gun
(1958)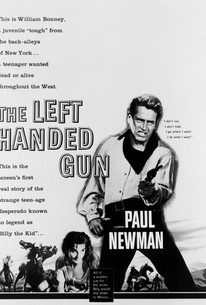 The Left Handed Gun Photos
Movie Info
Arthur Penn directed this quirky look at the legend of Billy the Kid (Paul Newman), which follows the outlaw from his days in the Lincoln County cattle wars through to his murder.
Critic Reviews for The Left Handed Gun
Audience Reviews for The Left Handed Gun
Billy the Kid seeks revenge for the killing of a cattle rancher who showed him kindness. I've never found the Western genre that compelling. Sure, there are some Westerns that use the lawlessness of the place/era as a way to debate the formation of laws in some kind of modern Locke vs. Rousseau discussion, and there are others that are characters studies of a different sort. But overall, macho violence and loud action scenes usually dominate the genre, and I fail to connect to any of the characters. Aside from Paul Newman's performance, The Left Handed Gun is everything I don't like about Westerns. It's predictable, and Billy the Kid holds no great aura for me - he's a snide, hot-headed, illiterate fuck-up, and though he comes to realize this by the end, I have trouble understanding why he holds so much pull for people in general and filmmakers specifically. Within the context of the film, I don't see any motivation for a woman to sleep with him (in the lamest seduction sequence ever - "With you. With you. With you.") or for Garrett to take him under his wing. Overall, the film gets strong reviews from friends and reviewers alike, but there must be something I'm missing about this genre.
Jim Hunter
Super Reviewer
Any fan of the Young Guns movies that our generation grew up with should check this out. Obviously the production value was not as good and Hollywood license runs rampant with Gore Vidal's classic non-fiction. This movie was erroniously titled at a time when most historians mistakenly assumed that Billy the Kid was left handed based on a reversed image.
Sean Gillespie
Super Reviewer
½
While this is one of the many inferior Billy the Kid stories, it still has Paul Newman as a bizarre and crazy version of the character. The movie mainly fails on the lack of scope and story, which is completely mind boggling to me. When it's a character like Billy the Kid, you have no excuse to tell a weak story. I'm assuming this also had a lower budget, so some things are excused. However, it should really only be seen for Paul Newman; nothing else
Conner Rainwater
Super Reviewer
The Left Handed Gun Quotes
There are no approved quotes yet for this movie.