The Legend (Fong Sai Yuk)
(1993)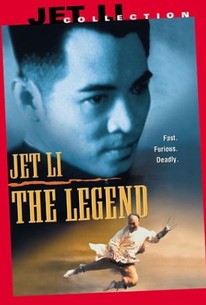 The Legend (Fong Sai Yuk) Photos
Movie Info
Starring the fabulous Jet Li, this incredible historical epic with its deft blend of high drama, slapstick, and more subtle forms of comedy coupled with breathtaking martial-arts action represents Hong Kong -- filmmaking at its very best. The story contains many serpentine twists and a complex mixture of plots and subplots. The story is set during the Manchu dynasty in Canton. Li plays Sai Yuk, a courageous young martial-arts expert who is the very best around, as can be seen in the opening kung-fu matches. Those he beats swear vengeance, and a chaotic fight breaks out. All involved, including Sai Yuk, end up in jail. Sai Yuk's father is most displeased. Later Tiger Lei, a local official, decrees that whoever can beat his wife, Siu Huan, in a match will win his daughter Ting Ting's hand in marriage. Lei then builds an enormous scaffold on which the combatants will fight; the first fighter to touch the ground loses. Sai Yuk gladly takes on the feisty mother. Unfortunately, after seeing the homely woman he takes to be Ting Ting, Sai Yuk decides to lose the fight. His own wild and crazy mother is mortified by the potential loss of face. To save the family honor, she masquerades as Sai Yuk's brother, Tai Yuk, and beats the tar out of Siu Huan. Unfortunately, Lei insists that the victor honor the marriage contract, something complicated by the fact that Siu Huan finds Tai Yuk irresistibly handsome. While that mess gets untangled, another brews when the family learns that patriarch Fong is a member of the notorious rebel Red Lotus Society, a group the governor has vowed to destroy with the help of Tiger Lei. Back again to the romantic travails, after much confusion, Sai Yuk and Ting Ting agree to marry and begin preparing for their wedding. They hold a pre-nuptial feast, one that the governor attends. Chop-socky chaos ensues resulting in the accidental shooting of Siu Huan and the capture of the elder Fong. This leaves the son to figure out how to save his father from losing his head to the vengeful official. The story's climax involves a major confrontation between the governor, Sai-Yuk, his lady, his crazy mother, and a town full of irate citizens. A sequel, Fong Sai-Yuk 2, followed. ~ Sandra Brennan, Rovi
Critic Reviews for The Legend (Fong Sai Yuk)
Audience Reviews for The Legend (Fong Sai Yuk)
Jet Li at his best and one of my favourite things about my childhood. I remember Fong Sai-yuk being a cheeky, smooth and exceptionally talented fighter, you will fall in love both with his boyish charm, easy badass-ery and his ridiculously cool, hilarious, bone-breaking and long-suffering mother (Josephine Siao / Xiao Fang Fang). This movie will make you laugh till you spit out anything you were eating / drinking instead of focusing all your energy on this movie, and make you cry so hard too. Outrageously creative action scenes that shame 99% of movies made today. I need to watch it again. One of my favourite movies in the entire world. I'm so glad someone reminded me about it today.
Letitia Lew
Super Reviewer
Great fight sequences, great cast, the humour is a bit too much here. The usual slapstick stuff of early 90s that it's either a hit or miss. Overall this is very much worth a check, but not as good as i was expecting. The sequel seems to be better.
Tsubaki Sanjuro
Super Reviewer
Marvelous action and story - Jet Li movies usually have good plots.
The Legend (Fong Sai Yuk) Quotes
There are no approved quotes yet for this movie.