The LEGO Movie 2: The Second Part
(2019)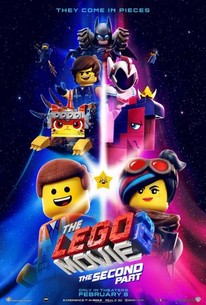 TOMATOMETER
AUDIENCE SCORE
Critic Consensus: While it isn't quite as much fun as its predecessor, The LEGO Movie 2: The Second Part fits neatly into an animated all-ages franchise with heart and humor to spare.
The LEGO Movie 2: The Second Part Videos
The LEGO Movie 2: The Second Part Photos
Movie Info
The much-anticipated sequel to the critically acclaimed, global box office phenomenon that started it all, "The LEGO (R) Movie 2: The Second Part," reunites the heroes of Bricksburg in an all new action-packed adventure to save their beloved city. It's been five years since everything was awesome and the citizens are now facing a huge new threat: LEGO DUPLO (R) invaders from outer space, wrecking everything faster than it can be rebuilt. The battle to defeat the invaders and restore harmony to the LEGO universe will take Emmet (Chris Pratt), Lucy (Elizabeth Banks), Batman (Will Arnett) and their friends to faraway, unexplored worlds, including a strange galaxy where everything is a musical. It will test their courage, creativity and Master Building skills, and reveal just how special they really are.
Critic Reviews for The LEGO Movie 2: The Second Part
Audience Reviews for The LEGO Movie 2: The Second Part
And we're back following on from the first hit movie based on the popular childhood toy Lego. The movie continues from where it left off at the conclusion of the first movie. After discovering the Lego universe was in fact the concoction of Finn's imagination whilst playing, his little sister Bianca comes along to join in on the fun. Within the Lego world this is represented by the arrival of Duplo built aliens. The aliens quickly destroy Bricksburg reducing it to an apocalyptic wreck. In the real world this translates to Bianca taking some Lego down to the basement to play with in order to get away from Finn. The adventure that follows revolves around a few of the main characters (Batman, Lucy, Benny, and Unikitty) getting kidnapped by an unknown force and taken to the Systar System. There Queen Watevra Wa'Nabi wants to marry Batman and seemingly keep the others in a state of happiness and temptation. It's up to Emmet to try and save his friends with the help of a new found friend in Rex Dangervest. So I guess the most interesting part of this movie is the way they represent the real world through the actions of the Lego world, and vice versa. Obviously we all know this from the first movie but that element becomes a much stronger feature from the midway part of this movie. Basically we find out that certain places in the Lego world are actually jumbled wording for things in reality like the washer dryer and the area beneath it, or the basement, or the kid's mother (which turns out to be a vision of armageddon for the Lego world). Whilst I did kinda like this aspect of the story (in a kind of [i]Rugrats[/i] sort of way), I didn't really like how the real world becomes a much larger part of the overall story. By that I mean this movie is supposed to be about a fantasy world of Lego primarily. OK it's based around a kids imagination but that's OK if used sparingly. But they use this far too much towards the end and you just lose all sense of the Lego fantasy because the real world just takes you out of it (or did for me anyway). It's like the first half is a Lego fantasy flick whilst the second half actually becomes more like [i]Toy Story[/i] but with Lego (and not CGI animation). Now this is a good idea...but for another movie! This feels like two ideas crashing into each other and one wipes the other out. And that leads me to the movie as a whole, its one huge big giant mess. The original movie had a lot set within the Lego city of Bricksburg which was fine. There were also many other crazy elements tossed in there from lots of other franchises, which was fine. But in this sequel its exactly the same shit but like loaded up on cocaine. Its the most bat-shit crazy hodgepodge of ideas I've seen for some time. They throw literally everything they can think of at the wall to see what sticks, and frankly, it's so off the wall nuts not much of it does. The humour falls flat all the time, the ideas are all old hat (been there done that from the first movie), and the story is wafer thin. Bottom line it's all about Finn and Bianca coming together, stopping their squabbling and playing friendly. That is literally it, the whole plot about certain characters getting kidnapped just feels like a waste of time. Yeah it all represents the two kids feuding and eventually reuniting but its hella weak. The point where their mother gets fed up and tells them to pack all their Lego away is just odd because what parent would tell their kids to box up all their toys and put them in storage as a punishment?? Yeah the parent might confiscate the toys for a while but box it up for storage? It's also that boxing that represents the armageddon in the Lego world. Don't get me wrong the movie is visually very impressive as you would expect and seeing the various Lego pieces is always a nostalgic joy. But at the end of the day this [b]really[/b] feels like they had no real idea where to go with the story and just chucked a load of random things into the blender. The movie is itself much like a young child's Lego creation, a colourful unusual hybrid of anything and everything stuck together. Obviously that is the basic idea but I really feel this just ran out of steam about five minutes in. Seeing the [i]Mad Max[/i] inspired post-apocalyptic Bricksburg was cool, after that its essentially exactly the same as before but duller and more bizarre. Not even a Lego version of Chris Pratt sending up all his previous movie characters by rolling them into one character could save this I'm afraid. Yes, even that brazen rugged good-looking type action hero character has been done to death both comically and seriously. 4/10
Phil Hubbs
Super Reviewer
Certainly not as good as the first one, but to be fair, that came completely out of left field, with The Second Part there was actually some degree of expectation. Very much a kids' film, but there's still a little bit of that broader appeal and deeper meaning that was found in the first one. Amazing from what amounts to a 107 minute ad for branded plastic blocks.
½
Everything might not be awesome but it's still pretty great for this creative, heartfelt, and hyperactive family franchise that is better than it has any right to be thanks in part to returning writers Phil Lord and Chris Miller. It's not quite as fresh and clever as the first go-round but it manages to better its predecessor in some key ways. Now that we know the colorful and zany antics of the animated Lego characters are also simultaneously the imaginative play of a real-world family, it provides a deeper thematic subtext with the unseen nature of siblings in conflict. I remember my own younger sister wanting to play with me and my toys, and me rebuffing her, and the film struck home some key emotional points about the inclusion of cooperative play. The different styles of play are on display as our characters are abducted by a shape-shifting space queen (voiced by Tiffany Haddish) who is determined to marry Batman and possibly rule the universe. A fantastic running joke is how transparently malevolent the queen is, which leads to an even better payoff. There are more songs and each is pretty well constructed, relevant to the story, and assuredly catchy, like "Catchy Song" used to brainwash people through pop, and a mournful version of "Everything's Not Awesome" that becomes genuinely inspirational and uplifting by its climax. The life lessons are easily digestible and the sense of breezy fun is still alive and well. I was laughing throughout, sometimes quite hard, and the brother/sister subtext had me wondering if I owed my younger sister a decades-late apology for my behavior (sorry, Natalie). Lego Movie 2 is a worthy sequel that finds new and interesting ways to build off the irreverent original's model. Bring on the Toy Story 3-style ending where our grown-up owner says goodbye to his childhood toys and friends. At this point, Lord and Miller can do anything and imbue it with wild wit, whimsy, and unparalleled mass entertainment (except Star Wars, I suppose). Nate's Grade: B+
Nate Zoebl
Super Reviewer
The LEGO Movie 2: The Second Part Quotes
There are no approved quotes yet for this movie.